On Tuesday, February 5th, Our Lady of Czestochowa in Her pilgrimage across the world in defense of life arrived in the biggest city of Andalusia – Seville. First there was a short stop at a school run by the Salesian Order, to prepare for the solemn entrance to the center of the city.
The ceremony of welcome and veneration of the Icon was held at the Church of the Most Blessed Sacrament (Iglesia del Sagrario). It is a very old and historical church attached to the Seville cathedral, one of the biggest churches in Europe. It is located in the very center of the old city, opposite and old mosque, which in turn was built on the ruins of a Visigoth cathedral, the bishop's capital of St. Isidore of Seville.
The Mother of God came at 11.30 AM. She was solemnly welcomed by around 200 people. The Holy Mass at noon was presided over by the general vicar of the Archdiocese of Seville (Archidioecesis Hispalensis).  It was attended by over 300 people. The veneration of the Icon lasted till 7 PM. The Archbishop of Seville, Juan Jose Asenjo Pelegrina, because of his duties was not able to take part in person in the main celebrations: the welcome, the Holy Mass and farewell, but he wanted to pay homage to Our Lady of Czestochowa, so he came in the afternoon to pray before the Icon and he venerated Her together with the people present. He also addressed the faithful gathered in the church with his special pastoral address, encouraging them to pray and work in the defense of life.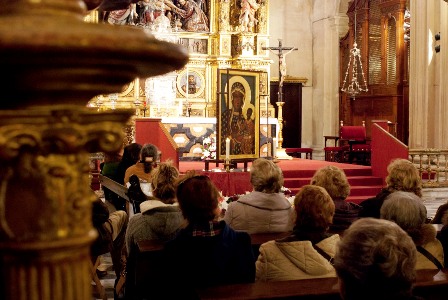 At 7.30 PM the crowd gathered at the church said the Holy Rosary in the defense of life and family as an expiatory act for the sins against life. During the evening Holy Mass at 8PM the church was full (around 600 people). Numerous religious brotherhoods also attended. In Seville alone there are traditionally over sixty of them.
After the Holy Mass a procession went into the central streets of the Old Town. Over 800 people took part in it including members of the brotherhood of St. Clement.
The parting with Our Lady of Czestochowa took place at the chapel of San Onofre. It was a typical farewell in the Sevillian style: a lot of emotions, excitement, tears and loud cheers in honor of the Mother of God.
At 9.30 PM the Icon left for Cordoba.