On Sunday afternoon, February 10th at 2.30 PM the Czestochowa Icon visited the convent of Primer Monasterio de la Visitacion,  i.e. the visitation sisters popularly known as the salesian sisters, because St. Francis de Sales was their founder. This church houses the tomb of the visitation sisters, the blessed martyrs, who were murdered during the Spanish civil war. They were beatified by the Holy Father John Paul II.
First, the sisters led the Icon of Our Lady of Częstochowa to the convent to their enclosure where they prayed on their own. Only later was the Icon carried to the outer chapel, where all the faithful can come. At 5 PM a service started. The lithurgy was led by the Neocatechumenal Way. A few people gave personal testimonies talking about the pilgriamge to Jasna Góra (the Our Lady of Częstochowa shrine) on the World Youth Day in 1991.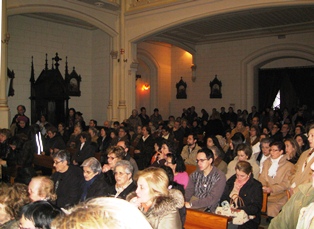 At 6 PM the Holy Rosary in defence of life and family was said and next they celebrated the Vespers. A crowd of over 400 people was praying at the church. Next the Holly Mass was presided over by father Juan Jose Infante, the pastor of the Honorary Guard of the Most Sacred Heart of Jesus.
The sisters took care of the Icon of Our Lady by praying and keeping vigil at their enclosure throughout the night.