The town of  Alcalá de Henares is a unique place.  One of the oldest in Spain. It is in itself a gem of culture and was placed on the List of the World Heritage of UNESCO. It used to be the place of the Spanish parliament (Cortes) sessions and the residence of Castillian kings.
As early as the 15th century the famous university was founded here and it is till today a well-known academic centre. It is also the place of birth of Miguel des Cervantes, the author of Don Kichote.
On Friday, February 15th, at 9AM the Częstochowa Icon arrived in Alcalá de Henares from Madrid which is just 30 km away. First She visited the school of Colegio Alborada. After the splendid welcoming ceremony the Icon was place in the school chapel where She was venerated untill 6 PM. The meeting was led by father Cesar Azolla, the Pastor of the Families of the Diocese of Alcala. Around 1200 people met the Mother of God. They were students, their parents and teachers.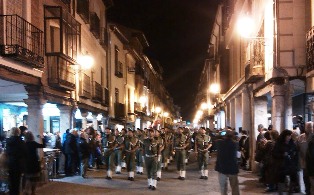 In the evening the Mother of God in her Czestochowa Icon was welcomed at the Cervantes Square in the center of Alcalá de Henares in the Diocese of Complutense.  A large crowd of people gathered, including the Poles, who live there. Military band was playing. Hence, the procession moved to the cathedral. The ceremony was presided by bishop Juan Antonio Reig Pla, the chairman of the Council for the Family and Defence of Life of the Spanish Episcopate.
Because this happened to be Saint Valentine's Day on this occasion Bishop Reig invited married couples celebrating their 25th and 50th anniversaries to renew their marriage vows before the Icon of Our Lady of Częstochowa.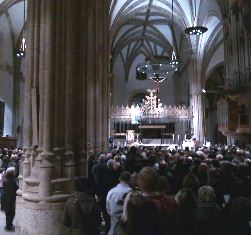 It must be stressed that a big group of married couples with their families came. Bishop Reig, who had taken up the responsibility to take care of the peregrination of the Częstochowa Icon in Spain, wanted to mark the uniqueness of the visit when he hosted the Icon at his diocese. He presided over the solemn Holy Mass and preached an ardent homily on the defence of life and love. The cathedral was full. Around one thousand people attended the celebrations. And after the Holy Mass the bishop invited everybody for a cup of hot chocolate.