The association "Ajuda de Berço" (Help to the Cradle) welcomed Our Lady of Czestochowa on March 21 and 22, in its house in Monsanto, Lisbon.
Sandra Anastácio, the director of this institution explained that "it was a visit which filled everybody with emotion and many blessings.
We had two days of prayer that marked the life of the children who live in the "Ajuda de Berço", of the people that work here, of so many friends that joined us, such as those from the pro-life associations "Ponto de Apoio à Vida" and "Mãos Erguidas", as well as Rev. Fr. António Figueira, Fr. Nuno Serras Pereira, Bro. José Manuel Correia Fernandes and Bro. Filipe Rodrigues".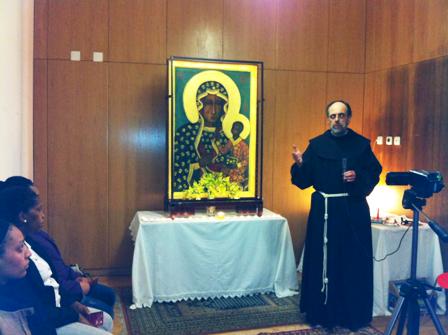 Strong moments that will remain in the memory of all those who contributed towards the institution and do not forget its primary mission: the defense of life.
The association "Ajuda de Berço" was founded in 1998 and shelters children between the ages of 0 and 3 years old who need urgent protection from situations that put them at risk because of bad treatment, abandonment, sexual abuse, families with alcohol or drug addiction, prostitution, etc.