On Friday October 15, the Feast of St. Theresa of Avila, the pilgrim icon of Our Lady of Czestochowa visited Avila on the Hudson - the Motherhouse of the Carmelite Sisters of the Aged and Infirm.
It seems as if every week brings a new report of some group calling for a "compassionate" way to do away with those who are severely disabled or near the end of their natural lives. This Carmelite order was founded to care for these brothers and sisters of ours, who are sadly and increasingly being treated as if they were disposable. In a book published before he was elected Pope Francis, Cardinal Jorge Mario Bergoglio said  "In this consumerist, hedonist and narcissistic society, we are accustomed to the idea that there are people that are disposable," among them, the elderly.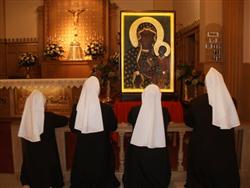 The future Pope wrote "God must be very fond of the old because those who are pious with their parents are showered with blessings."
The Sisters felt especially blessed by the visit of the pilgrim icon of the Black Madonna, the focus of the From Ocean to Ocean Campaign in Defense of Life.  They welcomed her with Compline (Night Prayer) followed by quiet veneration.  Each Sister was touched by this special and intimate visit of the Mother of God, and in particular, was struck by the beauty of the icon.
The next day, I led the Sisters in the recitation of the Holy Rosary for Life.  During the Mass, I explained the history of the icon of Our Lady of Czestochowa, and of this replica for its significance in the fight to defend life and to defeat the culture of death. 
I closed my homily with these words: "Often the culture of death appears to be winning.  The pro-life movement has received many blows.  But there is still hope.  We know that with the help of Our Lady who crushed the serpent's head, God will triumph, and the forces of evil will not prevail."
Since it was my birthday, the Sisters made me a cake which I enjoyed before leaving for my home parish – St. Thomas More in Fairfield, New Jersey.  The Sisters assured me of their prayers for me, for the work of Human Life International and for the success of the peregrination.
Fr. Peter West
Vice President For Missions
Human Life International