Seeing the ominous weather predictions, we wondered if we would be able to drive to Madonna House in Combermere, Ontario.  Our new friends here in Ottawa said the road to Madonna House can get snowed over. 
When we picked up the Black Madonna from St. Hyacinth in Ottawa the next morning, the Polish Oblates of Mary Immaculate were of course very gracious, and sad to say goodbye to the Queen of Poland, as Our Lady of Czestochowa is known.
We called the staff at Madonna House to get a better idea of the weather conditions, and set out on the 3 hour drive upon hearing that the roads were in good shape.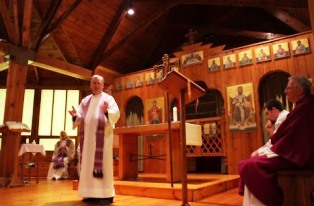 The ride through Canadian country side was beautiful, even with light snow flurries.
Fr. West last visited the Madonna House in 1991 when he was newly ordained. The Madonna House is famous among faithful Catholic workers, and its original location in Combermere serves as a training center for the international Lay Apostolate.  Priests and lay men and women live in community on the peaceful and spacious grounds.  There are several buildings in the main complex that look like ski lodges, and smaller ones that serve multiple purposes, including the gift shop where you can purchase goods made by the talented persons in formation at Madonna House.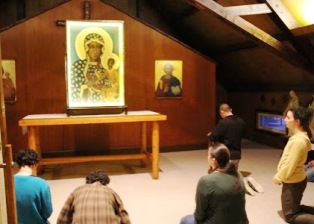 We were almost immediately greeted by a priest and women on staff and were invited in for tea and cookies baked yesterday for the Feast of St. Joseph.  After greeting the staff everyone settled on placing the Black Madonna in the chapel built by their foundress, Catherine Doherty.
During a tour we learned more about Catherine Doherty and the history of Madonna House.  Born to an aristocratic family in Russia, she fled from the Bolshevik Revolution and emigrated to Toronto. Catherine was received into the Roman Catholic Church in 1919, and with it came a desire for radical solidarity with, and service to, the poor, which she lived out courageously. After founding Friendship House in Toronto and later in Harlem, she settled in Combermere and started Madonna House.  Many came to join Catherine as her work and spirituality developed into such key concepts as "the little mandate" and "the duty of the moment," both of which will resonate with devotees of St. Josemaria Escriva and St. Terese of Lisieu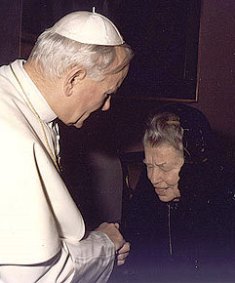 x.
Over her lifetime, Catherine integrated both of the great Christian traditions — Orthodoxy and Roman Catholicism — within her own spiritual being. She is one of the seeds of integration that can help toward the reunion of Catholicism and Orthodoxy, the "two lungs" as Pope John Paul II called them, once again breathing together in harmony.
After celebrating Holy Mass, Fr. West spoke to all in attendance about Our Lady of Czestochowa and led a Chaplet of Divine Mercy dedicated for pro-life intentions. The faith and gracious hospitality for which Catherine Doherty has become renown is still very much alive in those who carry on her work with Madonna House.
As suggested by the name Madonna house it has a beautiful devotion to the Blessed Virgin Mary and has a statue with a name officially approved that goes by the name of Our Lady of Combermere.  Another statue at Madonna House has traveled the world several times over taken by Fr. Patrick Moore.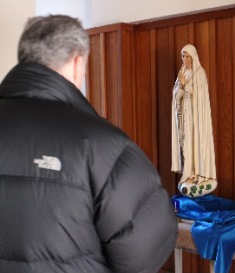 She was blessed by Pope Pius XII in 1948 for the mission of bringing to the people the message of Fatima. By 1957 Fr. Pat brought the Pilgrim Virgin throughout the world and had covered over 300,000 miles by land, sea, and air. And they continued to travel after that until 1982—another 25 years!
In front of this statue Fr. West prayed to the Blessed Virgin Mary for a successful pilgrimage.
Next day March 21 with a lot of devotion and tears and prayers the inhabitants of the lay apostolate said bye to the visiting icon.  Many expressed their gratitude for the visit since there were many ardent prayers for her to come.
Christopher Morales