After visiting Mary Wagner in prison at the Vanier Centre for Women, Our Lady traveled to St. Francis Xavier Church in Tottenham, a small town in a remote area of Ontario with a population of 6,000. For 20 years,  St. Francis Xavier Parish has offered Eucharistic adoration 24/7.
The parish is a mix of people with Italian, Polish, English and French backgrounds. In fact, some of the prayers were offered in Italian.  People came from all over the area, and some from great distances, to see the pilgrim icon of Our Lady of Czestochowa.
The Black Madonna processed into the filled sanctuary down a narrow center aisle. It was the eve of the Solemnity of the Annunciation, and Father Nick Defina, the pastor of St. Francis Xavier, concelebrated Holy Mass with Father West.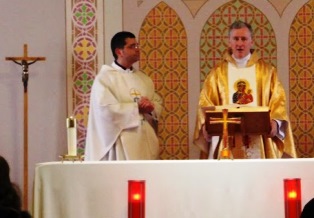 Fr. West wore a beautiful gold colored vestment for the first time which was given to him as a gift by a friend from his native New Jersey.  The vestment was made in Poland and has an emblem of Our Lady of Czestochowa.
A generous donation was presented to Fr. West after Communion by Danuta Kozak of Polonia North.  Danuta said that Polonia North existed for such a purpose as this, to help promote Catholic values and Polish culture.
After Mass was a period of veneration for the Blessed Mother, during which the faithful touched their holy cards to her. As is so often the case, however, the visit was too short, and the Black Madonna was soon on the move again – this time to Michigan.