The Pilgrim Icon of Our Lady of Czestochowa returned to the Los Angeles area to visit Holy Family Church in Glendale.  She was present for an evening Mass on Tuesday August 12 and Fr. West gave the homily; thereafter there was a holy hour with the recitation of the Rosary.  Fr. West invited those attending the Mass to join the Black Madonna in a prayer vigil to end abortion at Family Planning Associates in Glendale. 
The next morning Fr. West concelebrated the Mass and the Black Madonna was present and afterwards  a good number of people joined her for attending the prayer vigil to end abortion.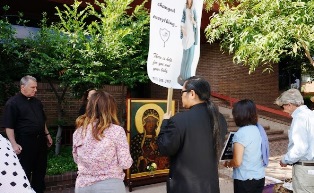 Geri Urrutia from Shield of Roses has been praying outside this busy abortion mill for 30 years as a side-walk counselor.  We commend the work of Shield of Roses and the pro-life presence they have maintained for so long outside Family Planning Associates in Glendale.  We pray that the visit of the Black Madonna will give the grace to close this location of Family Planning Associates.
The Black Madonna made her first stop in the Diocese of San Bernardino at San Secondo d' Asti Church in Guasti.  The church was founded in 1926 and was dedicated by Bishop John J. Cantwell of Los Angeles and also happens to be the home parish of Chris who is originally from San Bernardino.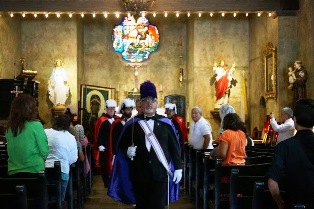 There was an evening Mass at 5pm and Fr. West gave talks about Our Lady of Czestochowa on the hour at 6:00 pm, 7:00 pm, 8:00 pm and finishing at 9:00 pm.  The Eucharist was exposed of adoration till the church closed for the night.  The following morning Fr. West celebrated a Mass and spoke about St. Maximilian Kolbe, the Battle of Vienna and their connection with Our Lady of Czestochowa.  Thereafter she departed for her next destination.
Fr. Peter West with Chris Morales
Human Life International