On the feast day of Our Lady of Czestochowa, August 26, we brought her to the Missionaries of Charity Contemplative Sisters in Los Angeles. Our evening destination was St. Rose of Lima Church in Simi Valley, a popular tourist destination because of the adjacent Ronald Reagan Presidential Foundation and Library.
Reagan, one of the world leaders most responsible for the defeat of communism, worked alongside Saint John Paul II, a firm devotee of Our Lady of Czestochowa. So upon arrival, the vibrant Catholic community showed up in large numbers to venerate Our Lady and attend Masses and a Rosary novena. I preached about Our Lady, whose visit spurred the faithful to pray with her in the defense of life and for the protection of the family.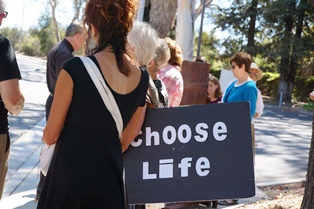 Encouraged by the community, we brought the Black Madonna to Thousand Oaks where she aided local pro-life efforts to end abortion by praying in front of Planned Parenthood.
Fr. Peter West with Chris Morales
Human Life International