The Black Madonna traveled on a very hot and dry afternoon to St. Mary Catholic Church in El Centro on September 4. The desert town borders Mexico, just across from Mexicali.  Father Ed Horning pastors a large Hispanic population at St. Mary's.
One parishioner, a Polish nurse named Mrs. Agnieska Hernandez, had just returned from Poland but missed seeing Our Lady of Czestochowa, much to her regret. Deeply touched to see the Pilgrim Icon at St. Mary Church, she felt more at home after veneration and noted that not many people of Polish descent live in the Imperial Valley.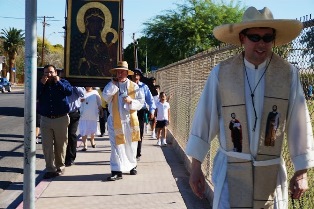 Greeted in a special welcoming prayer ceremony outside the church, the Black Madonna processed down the street to El Centro's Planned Parenthood for a prayer vigil in defense of life. Father Horning also attempted to make a personal visit with the pilgrim icon to a private residence, located on the same block as Planned Parenthood, in order to visit a young woman in a crisis pregnancy center.
Back at St. Mary's, Father Horning led the Liturgy of the Hours with the Black Madonna and sang a Marian devotion, the Canticle of Mary. Evening prayer was said in English and in Spanish.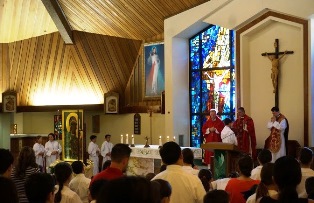 Father Horning and I then concelebrated a well-attended Mass in which I gave the homily on the significance of the pilgrim icon's journey to North America.  The following morning children from St. Mary's School attended Mass to celebrate their first day of school.  Because I had an opportunity to talk with them, I told them all about the Pilgrim Icon of Our Lady of Czestochowa which was especially enriching experience.
After a warm sendoff from the good people of the Imperial Valley, the Black Madonna started West through the searing desert to Las Vegas.
Fr. Peter West with Chris Morales
Human Life International