It was precisely the closure of the "40 Days for Life" at the Basilica of Guadalupe in Solemn Mass presided by Cardinal Rivera, on Palm Sunday. Cardinal Ennio Antonelli, president emeritus of the Pontifical Council for the Family, who along with Cardinal Rivera and large families in 2009 were responsible for organizing the World Meeting of Families was also present.
Both prelates went to defend life during the speech and homily during Eucharist, as our Mother in her venerable pilgrim icon on the main altar was the center of the world's largest pilgrimage place.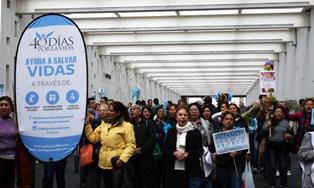 Subsequently participating families and about 500 "40 Days for Life" vigil participants out of 1.100 who physically joined the permanent prayer in the streets during the forty days and nights, gathered in the Plaza Mariana with the presence of Our Blessed Mother of Czestochowa to meditate about the effort, sharing testimonies of faith and recite together the Consecration of the Pilgrimage "From Ocean to Ocean."