In Ecuador the Virgin of Czestochowa Icon is in good hands, but for Our Lady it is important to travel next year to Colombia the sister country, It is necessary to make friends with people committed to the defense of life. That is why the international coordinator of this initiative, Lech Kowalewski, traveled to Colombia.
The first stop in Colombia was the city of Neiva. Neiva is the capital of the department of Huila, located between the Central and Eastern Cordillera, at 442 meters above sea level and with an average temperature of 27 C.
Father Juan Carlos Lievano, parish priest of the Virgin of Aránzazu Church, opened the doors of his parish so that Lech could meet with several prayer groups and explain the language of icons, and especially the spiritual language written into the Icon of Our Lady of Czestochowa. The most important talk was with the Mariano Love Ties movement, very active in the pro family and pro life work
Another interesting visit was to the San Esteban Major Seminary, where Father Juan Carlos is a professor. Here there are 18 seminarians, and among them one who will be ordained a deacon in November. In addition there are 4 young men who are novices.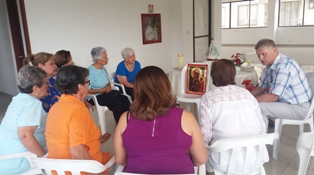 This was an opportunity for Lech to tell seminarians about the differences and similarities between the Catholic and Orthodox churches. Let us remember that Our Lady of Czestochowa is an icon venerated both by Catholic and Orthodox Church. Future pastors should know the treasures that unite the two churches.
Lech also had the privilege of meeting with the bishop of the Neiva Diocese, Bishop Froilán Casas and talked about this unprecedented pilgrimage initiative. Monsignor Casas was very kind to take a few minutes of his time to learn more about the From Ocean To Ocean Pilgrimage.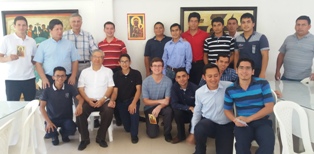 We are sure that he will not miss this opportunity to receive his Mother in the Diocese when She will be visiting Colombia.