Our Lady the Virgin of Czestochowa visited the parish of Santa Maria de El Calzado, located south west of the city of Quito. During her visit, the Pilgrim Virgin shared with the parishioners the celebration of the Holy Eucharist.
The parish priest Fr. Jorge Ortiz, presided over the celebration and in his homily he commented: "The Pilgrim Virgin invites us to leave our house. She left Poland and has visited many countries, so Her visit is a pilgrimage of service, devotion and prayer. "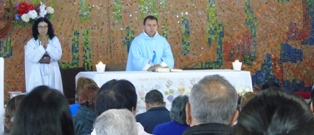 In a solemn act of faith and recollection Fr. Jorge invited one of the assistants families to pass by the altar to consecrate them in the love of the Virgin of Czestochowa and pronounced: "This family has remained united and in the face of adversities they have found the path and the strength to follow and not fall; Today we entrust them to Our Lady of Czestochowa because She, on her pilgrimage, spreads a prolife message that teaches love to the family, hopes and defends life above all."
When concluding, he said: "We are all invited to visit the Virgin and help her to make her message in defense of life and the union of the family spread everywhere, that's why we have to be a living testimony of her commitment."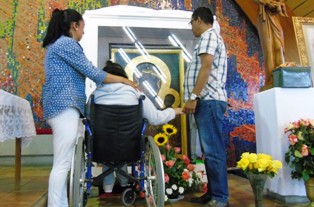 The visit to the parish of Santa Maria de El Calzado will be extended until 9 September and the pastoral groups will gather from 6:00 pm to accompany the Virgin with the recitation of the Holy Rosary and the prayer "Oh Maria aurora of the new world...", prayer of John Paul II in his encyclical letter Evangelium Vitae.