The parish of Santa Maria de El Calzado is in a permanent prayer with the visiting Virgin of Czestochowa. Every day at dusk parishioners gather in an attitude of rejoicing, enthusiasm, devotion and faith to be able to share time with the Pilgrim Icon.
The cenacle begins at 5:30 pm with a biblical reading, meditation and the recitation of the Holy Rosary, to continue later with the celebration of the Holy Eucharist. In the final blessing the prayer of John Paul II is recited from his encyclical letter Evangelium Vitae: "Oh Mary, dawn of the new world..."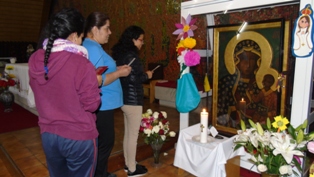 The parish priest, Fr. Jorge Ardila, commented: "The Virgin stirred up the faith in the parish, and She made the community to gather as a family. We are happy because Her visit is felt in the hearts, it is a maternal love that accompanies and shelters us."
The Virgin of Czestochowa shares a message of commitment and respect, for this reason the devotees will continue in prayers even after the Icon leaves the parish. That is why it has already been organized in an ecclesiastical prayer group to meet as a family and accompany with praise the journey of the Pilgrim Icon.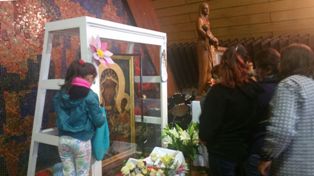 It was planed that Our Lady, the Virgin of Czestochowa, would be visiting the parish of Santa Maria de El Calzado until Tuesday, September 18, and on that day the community of parishioners has planned to hold a cenacle to thank the visit of love and in a symbolic act of devotion will commit themselves to defend the pro-life message of the Virgin.
The original plans were modified several times due to the requests of the parish that the Mother of God would be able to stay longer. There was also a growing tradition of writing letters to the Virgin of Czestochowa (Similarly, as in Austria). At the end of the day they were read in public prayed over and then burned.  A blue bag near the icon served as a mailbox.