On Monday, October 22, Our Lady the Virgin of Czestochowa visited the Church of Our Lady of the Annunciation, located in the parish of La Mena in the south west of the city of Quito. The reception was given by the parish priest Fr. Denisse Yanangomez, who celebrated the Holy Eucharist and remembers the Holy Father Pope John Paul II.
In his homily the he commented: "We welcome our Mother of Czestochowa with open arms, we accompany Her and we are willing to commit ourselves to Her pilgrimage with prayer, hope and joy".
He also invited to pray for the missionaries of the parish who will soon be coming out of meditation these days: "Let us imitate the virtues of Our Virgin of Czestochowa, who goes on the pilgrimage without rest, who brings joy and a message of commitment to life, love and respect to the family ... let us be faithful with joy, always invited to smile because God loves us".
Fr. Denisse encouraged reading, reflecting upon, believing and following Saint John Paul II. He quoted an excerpt from the Letter to Families of Pope John Paul II written in 1994:"The family, the way of the Church...It is a path common to all, yet one which is particular, unique and unrepeatable, just as every individual is unrepeatable; it is a path from which man cannot withdraw. Indeed, a person normally comes into the world within a family, ... When he has no family, the person coming into the world develops an anguished sense of pain and loss, one which will subsequently burden his whole life."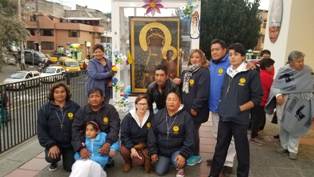 In the final blessing he asked to intercede in virtue of the family and to evangelize with hope and joy. Thus the parishioners and the ecclesiastical groups will accompany Our Lady of Czestochowa in the afternoons starting at 5:30 p.m. and the recitation of the Holy Rosary and the celebration of the Holy Eucharist have been planned every day.