On Wednesday, November 28, the Icon said goodbye to the FETV Catholic television channel at 4:00 p.m. and was transferred to the parish of Nuestra Señora del Carmen, where it will remain for two weeks.
That day was a holiday and many Panamanians took advantage of it to travel outside the city, but those who were close to the church listened with great surprise to the ringing of the bells that announced the arrival of the Pilgrim Icon.
The Icon of Our Lady of Czestochowa was placed on the left side of the main altar, on a table with white tablecloth and flowers at her feet. There were two small flags, one from Panama and the other from Poland, that had been placed on the sides.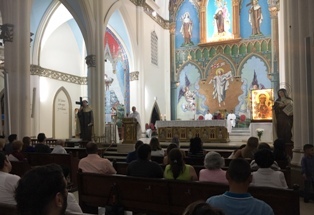 Before the sacred Eucharist, the holy rosary was recited. The Mass was presided over by Father León Juchniewicz, who told with great emotion why Our Lady of Czestochowa travels the world with a prolife message. Before the final blessing, all recited the prayer of Pope St. John Paul II from Evangelium Vitae.
The Carmelite fathers who are in charge of this parish did an excellent job of communication, because despite being a national holiday, there were many parishioners who could hear the Holy Mass and see the Icon at the end.
The next day, early in the morning, Father Leon was received by the Apostolic Nuncio in Panama, Arcybiskup Miroslaw Adamczyk, also Polish, who offered to pray for the success of the pilgrimage.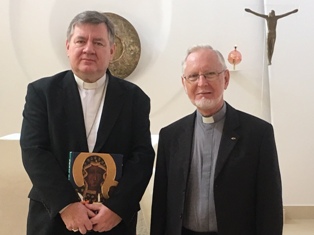 In the afternoon, Father León was invited to offer mass in the Parish of Our Lady of Good Hope, where Father Francisco Verar is a vicar, and his brother is the parish priest. Although the Icon was not there, he exhorted everyone to pray and put in Her hands the needs of the Panamanian people, who are approaching to receive the Holy Father Francis and the pilgrims at the World Youth Day, in January 2019.
With this preaching, Father Leon said goodbye to Panama, hoping that the Panamanians welcome and care for the Icon as true children of Mary.