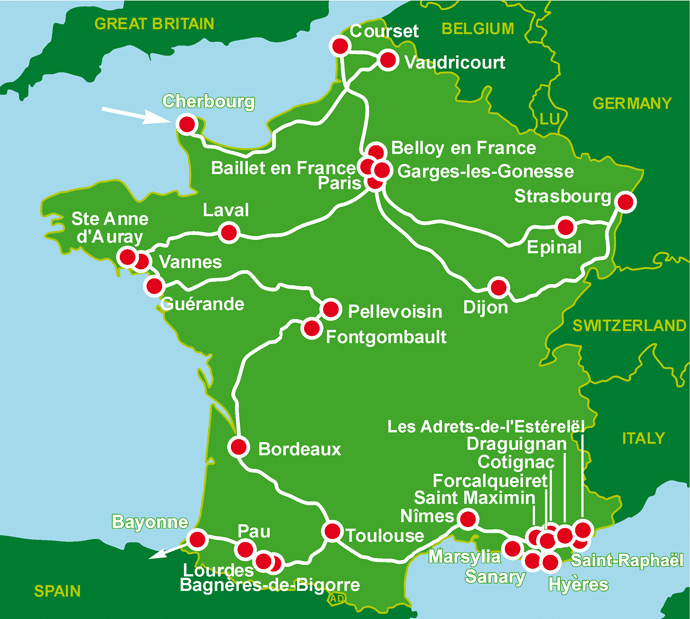 The "From Ocean to Ocean" peregrination program in France: November 25, 2012 - December 14, 2012
Sunday, November 25
Cherbourg
14:00 Arrival of the Icon to France by ferry to Cherbourg in Brittany
Vaudricourt: St. Kazimierz. Headquarters o. Oblates of Mary Immaculate.
20:00 Awaiting service and welcoming ceremony, vigil.
Monday, November 26
8:00 Adoration, vigil Chapel of the Institute of St. Kazimierz
10:00 Hours;
10:30 Holy Mass.
12: 00-13: 00 vigil
13:00 Ceremony of farewell.
Courset near Boulogne-sur-Mer
16:00 - 21:00 Foyer de Charité (Martha Robin's Light and Love Center) in Courset, St. Of Otylia and the vigil with the Emmanuel Community.
Tuesday, November 27
Paris
10:00 - 12:30 Maison de la Légion de Marie: Maison de l'Immaculée (House of the Immaculate Conception)
13:00 - 18:50 Notre Dame du Lys http://notredamedulys.fr
20:00 Parish in Belloy-en-France. Adoration of the Blessed Sacrament, Rosary, Litany to Our Lady - http://www.belloy-en-france.org/

This day is the feast of Our Lady of the Miraculous Medal of the Rue du Bac in Paris
Wednesday, November 28
9:30 - 16:00 Notre Dame du Bon Conseil http://notredamedubonconseil.fr
17:00 Parish St Pierre du Gros Caillou - chapelet d'enfants - children's rosary http://stpierredugroscaillou.com
20:15 Saint Etienne du Mont Parish (St. Stephen's) www.alliancemariale.com
Thursday, November 29
Dijon
12:00 - 14:30 St. Martin's Church in Genlis
Strasbourg
19:00 Parish of Our Lady of Lourdes (Polish community from the French parish) - welcome of the Icon of Mother of God and the Rosary
20:00 Holy Mass
21:00 vigil
22:00 Atonement for sins against life
23:30 all-night prayer vigil
Friday, November 30
6:30 Lauds
7:00 Holy Mass
Epinal
10:00 - 12:00 Saint Dominic Gymnasium
Baillet en France
17:00 arrival
20:15 all-night vigil
Saturday, December 1
Garges-les-Gonesse
8:00 - 11:00 Parish, St. Genowephy
Laval
15:00 - 16:00 Petits Frères de Marie Mère du Redempteurs (Little Brothers of Mary, Mother of the Savior), http://www.la-cotellerie.com
Vannes
Vigil in the Cathedral with the Bishop of Centene
Sanctuary of Ste Anne d'Auray: All-night vigil before the Blessed Sacrament
Sunday December 2
Guérande
11:00 Welcome of the Icon of Mother of God in the collegiate church
15:00 Akathist - Orthodox Coptic Community
16:00 prayers with the Polish community of Couëron
17:00 Vespers, Adoration of the Blessed Sacrament
Monday, December 3
9:00 Lauds
10:00 prayers with Rosary Groups
15:00 Rosary-meditation "I have come that people may have life"
17:00 Prayer Groups "Mother's Prayer" with children
20:00 - 21:00 Alpha Prayers, Parish Evangelism Groups and Spiritual Renewal groups
Tuesday, December 4
Pellevoisin
13:00 - 18:00 Sanctuary of Our Lady of Mercy http://www.pellevoisin.net
19:00 Abbey and parish of Our Lady of Fontgombault
20:30 procession
Wednesday 5 December
Bordeaux
14:00 rosary for children - St Bruno Parish
Vigil - Catholic High School La Sauque in Brede
Thursday, December 6
Toulouse
Vigil of the Movement "Femmes Internationale Murs Brisés" - Church of St Jérôme http://www.fimb-asso.org/

Friday, December 7
Bagnières-de-Bigorre
Carmelite Sisters (Carmel du Petit Rocher)
Lourdes
18:00 Holy Mass concelebrated - the Church of the Holy. Heart of Jesus
20:30 vigil with the Russian Orthodox Community and the Polish Catholic Community (Sisters of Nazareth from the home of the Polish Catholic Mission in Lourdes, "Bellevue")
Saturday, December 8
9:30 Procession. Solemn bringing of the Icon of the Mother of God to the basilica. Holy Mass international concelebrated in the Basilica of St. Pius X, presided over by the ordinary of Tarbes and Lourdes, Bishop Nicolas Brouwet
Nîmes
19:00 Monastery - Poor Clares
Sunday, December 9
Cotignac
Sanctuary of Our Lady of Graces (Sanctuaire Marial Notre-Dame des Grâces)
Sanary
Church of St Nazaire
Monday, December 10
Marseille
10:00 - 17:00 Serwian Monastery
Hyères
18:30 Sanctuary of Our Lady of the Consolation (Sanctuaire ND de la Consolation)
Tuesday, December 11
Saint Maximin
7:30 - 15:00 Dominican Monastery
Forcalqueiret
16:30 Church of St. Martin
Wednesday December 12
Saint-Raphaël
9: 00-12: 00 Minor Basilica. MB the Victorious
Draguignan
The Console Sisters
Les-Adrêts-de-l'Estrel
Church of the Ascension of the Blessed Virgin Mary
Thursday, December 13
Pau
Carmelite nuns
Friday, December 14
Bayonne
20:30 Cathedral
Saturday, December 15
The ceremonial handing over of the Icon of Our Lady of Częstochowa to the Spaniards