I had the impression that Our Lady was really there with us. I was very moved and the grace I requested was accorded.
The visit of the icon brought me joy and happiness and I was pleased to have seen it. Thank you for coming to our school.
I told her everything: I think she listenend to me attentively.
This day will happen only once in my lifetime: she had gentle eyes like a Mother.
When you came, O Mother of God, I was prepared, and you came. When I arrived in the chapel I saw you with your deep eyes which protect your children. I love you O my mother.
It was magnificent ! She was beautiful; her eyes were gentle like a Mother's. I shall never be able to thank Mary enough.
The icon was the height of a grown person and with Jesus in her arms, she really seemed alive.
When you arrived, O my Mother, in your glass house, I went to meet you. You came from the other side of the world. Thank you very much Blessed Virgin!
It was he first time I had seen an icon: I was very moved and I cried when she left.
I thought of the Pope John-Paul II and that he had offered his waist sash stained with blood to Jasna Gora. Mary is our protectress.
When reciting the Consecration prayer, I gave everything to Our Lady.
The moment I preferrred was when we placed our little candles before the icon. We were very interiorised.
I liked her arrival. We sang the hymn "We hail you" and we knelt down.
I preferred the moment of departure, with the icon in the trailer, surrounded by flowers
The icon brought me joy and happiness and I was pleased to have seen it.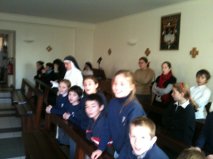 The visit of the Virgin lights the flame of my heart, and the joy of God.
I wanted to go to the chapel from time to time, but I kept forgetting. But I drew a little paper at the foot of the Icon on which it was written "Will you grant me the grace of coming here for 15 days" ? I am sure that Our Lady will assist me in coming to visit Jesus.