On Friday afternoon the Icon of the Mother of God in Her Czetochowa representation arrived at the Church of Saint John of the Cross, in the sector known as Central Guasmo, a neighborhood with not a very good reputation south of the city. The pastor, Fr. Jorge Montalvo, was vicar for two years in the parish of Czestochowa, so he knows very well the history of the Icon from Jasna Gora.
When the Church of Saint John of the Cross was just built, the first pastor, Fr. Vicente Cueva, agreed with the neighboring pastor of the Virgen del Cisne Church, which is very close, to celebrate both the novena and the Feast of the Virgen del Cisne et the same time. Since they were both from Loja (a city in southern Ecuador, in the Inter-Andean valley) and very devout to Our Lady from Cisne.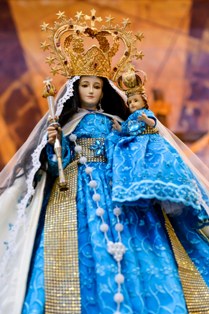 The Feast of Virgen del Cisne coincides with the Feast of the Assumption of Mary, on August 15. That is why they celebrated it first in the parish that bears Her name, and then, the following month, the community returns to the novena in the other parish. This reminds as of a tradition among parishioners. Therefore, on Friday night they took the Pilgrim Icon to Los Cidros Park, where the Holy Eucharist was held outdoors, on the 8th day of the novena.
On Saturday morning, the Rosary of the Dawn was recited, with songs to Mary.
The Basilica of the Virgen del Cisne is located close to the city of Loja, 75 kilometers away, and pilgrimages are held every year that summon a large crowd of people, mostly mestizos and indigenous people, who came to see Our Lady from different parts of the country.
Pilgrims take the Virgen del Cisne in a form of a wooden statue on a pilgrimage from August 15 to 20, transferring Her from the Basilica to the city of Loja where She is received by the citizens and guarded until return to the sanctuary on November 1. On September 8, 1930, the Canonical Coronation of the Virgen del Cisne took place.