This evening the Icon was solemnly received and venerated by Canon Gerry Breen Adminstrator of St Chads cathedral Birmingham.
Later Solemn Vespers were presided over by the Russian and Romanian Orthodox clergy and brethren. During this profoundly moving liturgy which was witnessed by many Orthodox and Catholic faithful the Russian Orthodox priest spoke authoritatively and with deep gratitude to their "Catholic brothers" for the invitation and welcome extended to the Orthodox communities within Birmingham Archdiocese to venerate the Mother of God together in a Catholic cathedral.
He went on to remind the Catholic faithful that Orthodox and Catholics share over 150 saints and among those shared is the Saint under whose patronage Birmingham Cathedral and Archdiocese is placed; namely, Saint Chad.
St. Chad  (died 2 March 672) was a prominent 7th century Anglo-Saxon churchman, who became abbot of several monasteries, Bishop of the Northumbrians and subsequently Bishop of the Mercians and Lindsey People. He was later canonized as a saint. He was the brother of Cedd, also a saint. He features strongly in the work of Bede the Venerable and is credited, together with Cedd, with introducing Christianity to the Mercian kingdom.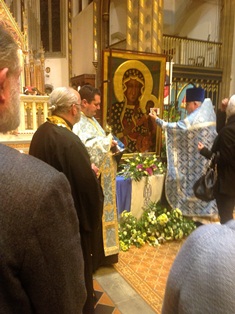 Both the Roman Catholic Cathedral Administrator and Russian and Romanian Orthodox priests led the faithful in venerating the Pilgrim Icon alongside the icon of St. Chad together.
The Orthodox clergy concluded the service with the adminstration of individual blessings upon all present. People remained venerating the Icon quietly and privately well beyond 9.30pm.
Saturday morning will see the Polish community leading the music for the 10am liturgy.