8 DECEMBER 2012
on the Solemnity of the Immaculate Conception
of the Blessed Virgin Mary

The Czestochowa Icon
In the "From Ocean to Ocean" peregrination
in defense of life
will be visiting the Shrine in Lourdes!

Holy Eucharist on Friday, December 7th, at 6 o'clock in the evening
At the Sacred Heart of Jesus parish church
Presided by Pastor Jean-François Duhar

At 8:30 PM – prayer vigil with the participation of:
- Representatives of the Orthodox Church
- Polish Community; Fr. Piotr Długołęcki
- The Sisters of the Holy Family of Nazareth from the House of the Polish Catholic Mission "Bellevue" in Lourdes

On Saturday, December 8, at 9:30 AM, Our Blessed Mother Will be present at the underground Basilica of St. Pius X
During the celebration of the International Holy Mass
Presided by His Excellency Nicolas Jean René Brouwet,
Bishop of the Diocese of Tarbes and Lourdes.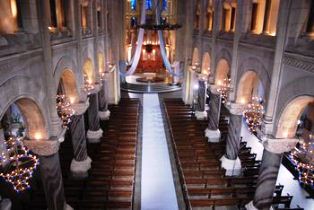 To date - 4 December 2012, the Icon has travelled over 30,000 km during 172 days, thus far. Over 2 million people have already met the Icon. About 250 thousand pro-life flyers in 20 languages have been distributed. Large crowds of people (as much the Orthodox, as the Catholics) welcome Our Lady in all the countries along the peregrination route, giving their witness of faith and engaging actively in the protection of human life.

Since June 15, 2012, when this unprecedented, historical journey commenced in Vladivostok, Russia, 21 countries have participated along the route: Russia, Kazakhstan, Belarus, Ukraine, Latvia, Lithuania, Poland, Czech Republic, Slovakia, Hungary, Romania, Slovenia, Croatia, Italy, Austria, Liechtenstein, Switzerland, Germany, Belgium, Great Britain, and Ireland. Currently, the Icon is vising France.
For more information, please visit our website www.fromoceantoocean.org

WE WELCOME YOU TO VISIT!