August 26, on the Feast of Our Lady Of Czestochowa, Human Life International's Father Peter West prayed with the traveling icon of Our Lady of Czestochowa outside of two abortion mills in Maryland: Potomac Family Planning Center in Rockville and Germantown Reproductive Health Services, where the late-term abortionist LeRoy Carhart operates.
Fr. West first offered the 6:30 AM Mass at Mother Seton Parish in Germantown, M.D.(the first saint born in the United States), before processing with the icon to Germantown Reproductive Health Services. Dozens of people mainly from Maryland Coalition for Life stood together with the icon of Our Lady outside of the abortion mill united in prayer.
Later that day, Fr. West brought the icon to Immaculate Heart of Mary Church in Lexington Park, M.D.
After an incredible launch of the North American leg of Human Life International's "From Ocean to Ocean Campaign in Defense of Life" at the site of the first Catholic Mass celebrated in the English colonies — St. Clement's Island, Maryland — lives are already being saved. The pilgrimage of an icon of Our Lady of Czestochowa, the Black Madonna, has already covered 40,000 miles through Russia and Europe, and fittingly she wasted no time visiting perhaps the most notorious late-term abortion mill in America — LeRoy Carhart's "clinic" in Germantown, Maryland.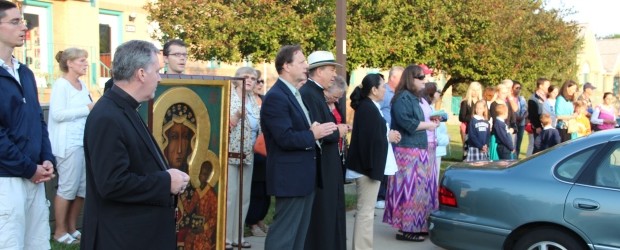 What happened next will not surprise those who venerate the mother of Our Lord, and who call on her intercession in the fight for life, but sometimes even the faithful are blown away at how God intervenes when His mother's intercession is implored. The report below comes to us from Ellen Castellano, one of the regular prayer warriors of Germantown:
Please tell Fr. West about the amazing effects we saw from having the icon of the Black Madonna visit Germantown.
On Monday, a sidewalk counselor had a 30 minute conversation with one of the primary clinic workers. The worker has never talked to us before (except to harass us), much less listen as she did yesterday. It was a good discussion of issues related to abortion and personal responsibility. I also spoke to her today briefly, and was amazed that we had a civil conversation since I have never heard anything more than cussing from her in the last two years. We feel that God is opening doors for us to have meaningful conversations with the staff and this is a very positive development.
Today, there were 3 saves between 8 a.m. and noon!
Here's the story of the third one: A young woman came out of GRHS with a paper bag in her hand and headed to her blue minivan. I assumed she was post abortive (due to the bag), so I spoke to her about post abortion resources. As she headed back inside, I spoke to her some more and at the last second said, 'If there's a chance you haven't had an abortion yet, please talk to us about options!' She was inside a little while, and then came back out with a smile on her face and her hand extended – she came right up to us and wanted our information! She was about 7 weeks pregnant, unmarried and in school, and hadn't had a sonogram yet. She told us to call Shady Grove Pregnancy Center to talk with them and get the sonogram. She was so happy to talk with us; the relief was all over her.
The last amazing thing that happened earlier today was this: a woman on the second day of her 3 day abortion (very big, maybe 28 weeks or so) came out and when we offered her the post abortion Bible Study, said with all sincerity, 'Yeah, I really need that! Give it to me.' She grabbed it out of our hands, and told us more about her situation and agreed that she needed help getting over the abortion. We've never heard someone so intent on pursuing healing and reconciliation right out the door.
Maybe the icon has an effect of deliverance – it seemed that something was really different out there.
Tell Father West thanks for bringing her by!
In Western Christianity we are not usually familiar with the tradition of religious icons, which Christians have for well over a millennium understood to be "windows" into heaven, as opposed to paintings, which reflect the artist and his perspective. This is why Eastern Christians refer to the icon as "she," as opposed to "it." The icon is not understood to be the saint, but to represent the saint in a much more tangible way.
Regardless of whether you know the history of icons, something very special is going on. God can do things that we cannot, and it is time to call on Him with every resource we have, including through the intercession of the mother of Jesus.