In Bremerton, a city located on the Kitsap Peninsula near Seattle, a crowd of ardent pro-life supporters greeted the pilgrim icon of Our Lady of Czestochowa at Our Lady Star of the Sea Parish. Father Derek Lappe, pastor, is blessed with parishioners actively engaged in faith formation programs and Eucharistic Adoration.
On Saturday, July 5, they warmly welcomed us and gladly shared their enthusiasm for the Black Madonna's historic pilgrimage. I preached to a full house at every weekend Mass, after each of which parishioners venerated Our Lady in the Icon of Czestochowa.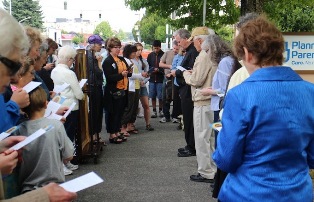 On Sunday afternoon, we brought the Black Madonna to Bremerton's Planned Parenthood, where we prayed with parishioners to end abortion.
We joined St. Andrew's Respect Life group the next morning at a Planned Parenthood in Tacoma, Washington. After holding a prayer vigil to end abortion, we traveled to St. Andrew Church, a vibrant, 80-year-old parish in Sumner, Washington. St. Andrew's pastor,  Fr. Jack Shrum, has a talent for writing icons. The faithful of this thriving community became strengthened by the message of the Black Madonna, after celebrating Mass and praying the Holy Rosary. We are constantly inspired as witnesses to the sanctity of life.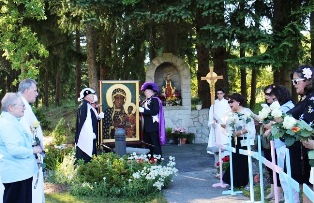 Early on July 8, we arrived with the pilgrim icon at St. Stephen Martyr Church in Renton, Washington. Father Ed White, pastor, encouraged us to prominently display the pilgrim icon in the adoration chapel for full-day veneration. With Fr. White, we prayed the Liturgy of the Hours that evening and then led a culturally diverse group of parishioners in procession to the Marian Grotto and Memory Garden. After concelebrating Mass with Father Ed, an assembly of parishioners held a delightful reception for the Black Madonna in thanksgiving for the From Ocean to Ocean Campaign in Defense of Life.
The next stop for the Pilgrim Icon was St. Katherine Orthodox Mission Church in Kirkland. With double the normal attendance, parishioners joined Father Barnabas Powell in welcoming Our Lady to their Orthodox church.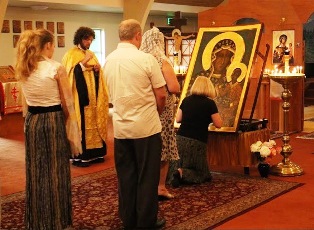 They sang the Akathist, a Marian hymn to the Mother of God and marked the occasion on Wednesday, July 9, with new booklets to honor the Black Madonna. Father Barnabas celebrated the Divine Liturgy, and his rock solid sermon in defense of life made her visit more significant for attendees, edifying and strengthening their pro-life convictions.
The very next day we traveled with the pilgrim icon to another Planned Parenthood, this one in Bellingham, where she helped local pro-lifers in their effort to end abortion in their community. Thanks to Anita and Dwight Felty and Ruth Miller, whose arrangements made this special pilgrimage to Sacred Heart Church in Bellingham a memorable success.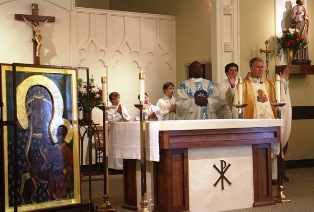 During our visit on July 11 and 12, I concelebrated Masses with a priest from Bunamwaya, Uganda, Father Francis Xavier Kikomeko. We learned that Father Francis knew Father Jonathan Opio, our country director for Human Life International in Uganda, from seminarian studies together. Parishioners joined Our Lady of Czestochowa in Eucharistic Adoration, a holy exercise that draws us to her Divine Son.
The From Ocean to Ocean pilgrimage takes us on our next stop to Vancouver, British Columbia in Canada. We pray that the Black Madonna's visit will continue to strengthen the faithful in their resolutions to defend life and family.
Chris Morales and
Fr. Peter West
Human Life International