Our July 12 arrival at St. Casimir Church in Vancouver, British Columbia, marked our first return to Canada since we left Brampton, Ontario in mid-April. It was a welcome sight to see the Polish Mission Church in Vancouver overflowing with pilgrims who came to greet Our Lady of Czestochowa.
Father Slawomir Oblak celebrated Mass and Father Wieslaw Narazuk, OMI, preached about the many times the Black Madonna has intervened in Polish history to aid her children. I then gave a brief explanation of the From Ocean to Ocean Pilgrimage in Defense of Life.  Though it was very warm, the faithful stayed to venerate the icon in the un-airconditioned church.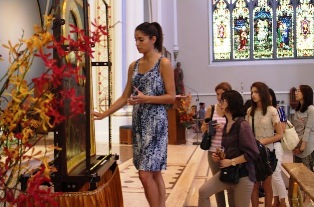 The next morning we brought the pilgrim icon to the Holy Rosary Cathedral, the seat of the Archdiocese of Vancouver, home to almost 500,000 Catholics. I spoke to over 1,300 people about the Ocean to Ocean Campaign in Defense of Human Life.
What an honor to bring the Black Madonna to St. Mary's Ukrainian Catholic Church, an Eastern Rite Church in communion with the Roman Catholic Church. The Most Reverend Ken Nowakowski, Bishop of the Ukrainian Catholic Eparchy of New Westminster, with Father Serafym, pastor of St. Mary's, concelebrated the Divine Liturgy. After Bishop Ken's introductions, I witnessed to the sanctity of life with Our Lady of Czestochowa.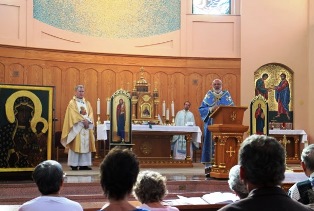 Later that morning, we met again with Mary Wagner, the pro-life Canadian who was recently released from imprisonment for counseling women outside of abortion clinics. We reassured her of Our Lady's intercessory prayers to help strengthen her pro-life convictions and work in defense of the unborn.
Shortly thereafter, I took a retreat at the Benedictine Abbey of Westminster in Mountain, outside Vancouver – my first opportunity to do so since starting the From Ocean to Ocean Campaign last August. In my absence, Chris Morales and Richard Podgurski, a Polish native studying for the deaconate with the Archdiocese of Vancouver, faithfully brought the Black Madonna to numerous stops for presentations and opportunities of veneration.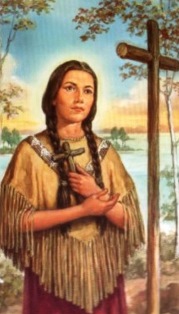 Chris and Richard's first stop was St. Paul's Indian Mission Church at the Squamish Nation in North Vancouver. Father John Brioux, a priest with the Oblates of Mary Immaculate, celebrated Mass on Kateri Tekakwitha's feast day. How fitting for the Squamish Indians to venerate the Black Madonna on a day devoted to the North American saint who died in Canada, and whose true faith through her love for Our Blessed Mother Mary led many to conversion.
Saint Kateri Tekakwitha informally known as Lily of the Mohawks. Tragically, at the age of four she witnessed a smallpox epidemic which none of her immediate family survived. She lived through the disease, but it damaged her eyesight and left with scars. She was taken in by her uncle. Kateri converted to Christianity in her teens and was baptized in 1676 as Catherine. Persecuted because of her faith she fled to Canada, where she lived teaching children to pray and care for the sick. While remaining a lay person, she made a vow of chastity and offered herself completely to the Mother of God and Her Son. When Kateri died at the age of 24, minutes after her death, witnesses say her scars vanished and she appeared radiant and beautiful. Her grave is located in the reserve of Kahnawake in Quebec, Canada, where Indians and the descendants of French colonists make pilgrimages. Her attributes are: white lily, cross in her hand and a turtle, a symbol of her tribe.
When the Black Madonna arrived at Holy Trinity Church in North Vancouver on July 15, she was greeted by Father Reynaldo Usman, assistant pastor. Parishioners embraced the Culture of Life message and veneration after Mass.
Later, at All Saints Church in Coquitlan, enthusiastic parishioners had organized a prayer vigil before Mass to celebrate the Black Madonna's arrival. Chris' presentation, "What is an Icon," and Richard's brief history of Our Lady of Czestochowa preceded veneration for the pilgrim icon of Our Lady of Czestochowa.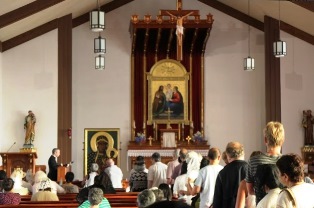 Early on July 16, we arrived at St. Mary's Church in Vancouver. It was an exclusive opportunity for commuters who normally pray the Rosary and attend daily Mass. However, many were able to stay for the presentation and veneration of the pilgrim icon before leaving for work.
That evening, we arrived just in time for evening Mass with the Black Madonna at Holy Family Church. Holy Family Church, staffed by priests from the Priestly Fraternity of St. Peter, offers parishioners the traditional Latin form of the Roman Rite. Father Daniel Geddes' homily presented the history and significance of Our Lady of Czestochowa, which further inspired parishioners to venerate the Black Madonna during her visit.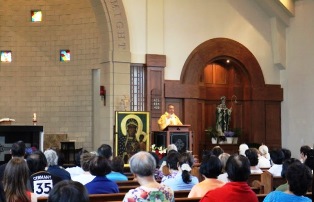 With a joyful greeting on July 17, Father Lawrence Holland and his large flock of 180 parishioners welcomed the Black Madonna to Holy Name of Jesus Church for 9 a.m. Mass and veneration. Chris and Richard addressed the pro-life congregation on the abundant graces that flow from Our Lady when we defend life from conception to natural death.
Later the Black Madonna arrived at St. Patrick Church for evening Mass. Father James Hughes' inspirational homily addressed the Blessed Virgin Mary's humility, always pointing the way to Jesus Christ — as depicted by the pilgrim icon. It was a blessing to see so many parishioners encouraged by Father Hughes, to follow St. Pope John Paul II's strong devotion to Our Lady of Czestochowa.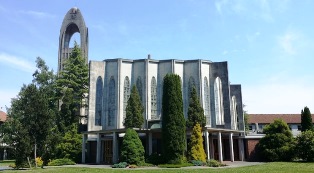 Before departing Westminster Benedictine Abbey, we brought the icon into the Abbey for daytime prayer to give the monks an opportunity to venerate the icon. I gave a brief presentation on the icon after which the monks took holy cards and venerated the icon.
Our final stop in this region was St. Francis Xavier Church, an ethnically Chinese parish. The pastor, Father John Tran, CSJB, joined a fairly significant number of Chinese parishioners in veneration of the Black Madonna. Father Tran, because of his special devotion, had visited the original icon in Poland four separate times, and he felt that Our Lady rewarded his devotion by the icon visit to his church.
Fr. Peter West with Chris Morales
Human Life International