The Black Madonna traveled to the John Paul II Polish Center in Yorba Linda after the prayer vigil at Planned Parenthood.  The Pilgrim Icon of Our Lady of Czestochowa was processed into the center which was packed with the Polish faithful.  They prayed a Rosary and celebrated a Mass.  Fr. West concelebrated the Mass and afterwards there was time given for private devotion and there was a special prayer service that began at 7:30pm. 
The special prayer service was celebrated by a Polish choir that had an incredible repertoire of songs they sang in praise of Our Lady of Czestochowa.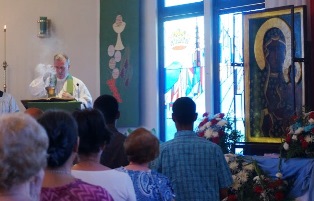 In the evening August 16 the icon traveled back to St. Martin de Porres for the Sunday Masses and Fr. West preached at all of them with the icon present.  The principal organizer of this trip was Marie Martin.
Fr. Peter West with Chris Morales
Human Life International