The Pilgrim Icon of Our Lady of Czestochowa next traveled to St. Kilian Church in Mission Viejo.  Although the Mass was celebrated on a Monday August 18, the church was packed with around 800 people. 
St. Kilian Church had recently finished building a new church that was blessed by the Diocese of Orange's very own Bishop Kevin Vann who was appointed by Pope Benedict XVI to be the new bishop of the diocese on September 12, 2012.  The next morning Fr. West celebrated a Mass that was very well attended and he gave a 30 minute talk after the Mass.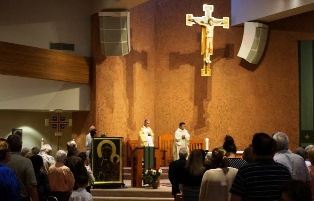 The Black Madonna stayed in the Diocese of Orange for the next visit at St. Timothy Church in Laguna Niguel.  Fr. West concelebrate Mass at preached the homily for a Mass that began at 7:00pm.  This parish competed with St. Kilian Church for the large turn-out of people who came to see the Black Madonna.  The next morning Fr. West concelebrated a Mass and preached the homily.
The next visit in the Diocese of Orange was to Santiago de Compestela Church in Lake Forest.  The pastor, Fr. Greg Márquez, of Santiago de Compestela Church gave the Black Madonna a warm welcome to his parish. The visit began with the Rosary in the evening followed by a Mass that Fr. West concelebrated with Fr. Greg and his associate Fr. Thomas Naval.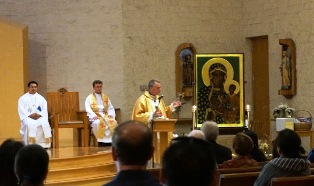 The next morning Fr. West concelebrated with a Norbertine priest Fr. Gregory Dick who Chris had worked with in the past when he was a teacher a prep school.  Fr. Gregory venerated the Black Madonna and Chris told Fr. Gregory about the visit the icon had made to the Norbertine nuns in Tehachapi.  Tehachapi was the place where Chris and Fr. Gregory had worked together for the prep school; Fr. Gregory was its spiritual director.
The Black Madonna returned to the Archdiocese of Los Angeles to visit St. Therese Church in Alhambra.  There was a Mass in the evening and Fr. West celebrated the Mass and gave the homily and there were about 200 people attending.  The next morning Fr. West gave the homily for the liturgical day of the Queenship of Mary.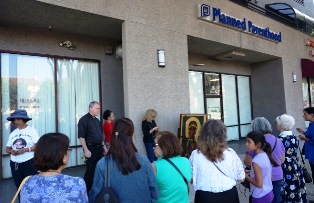 After Mass we traveled to the local Planned Parenthood located in Alhambra.  The group that gathered to pray for the end to abortion on a busy street on Friday August 22 at 9:10am covered all 4 mysteries of the Rosary and gave a great witness of faith to the public by their prayerful presence.
The visits to churches in Southern California were only half over upon leaving Alhambra and already the Black Madonna had made a big impact in the southland.  The impact was made evident by the outpouring of devotion and the abundant veneration given to her during her visits.
Fr. Peter West with Chris Morales
Human Life International