PHOENIX, Arizona – November 3, 2014 –Logging some 50,000 miles across North America in defense of life, the Black Madonna recently concluded a 14-month global prayer pilgrimage in Phoenix, Arizona. An outdoor Mass attended by 1,000 faithful was held on Saturday, November 1, 2014, at Our Lady of Czestochowa parish in Phoenix, Arizona.
The culminating event commemorated the spiritual gains for life and family through the treasured Christian icon of Our Lady of Czestochowa. Father Peter West, Human Life International's vice president for missions and custodian of the icon, recalled the many tangible successes of the campaign in North America.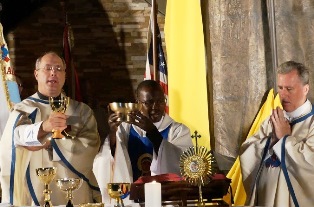 "Having traveled with Our Lady of Czestochowa since August 21st of last year and having seen the profound effect she has had across the United States and Canada," Father West stated, "I can say that through Our Lady of Czestochowa, the Lord, as He has done so often in the past, is doing great things at many levels. Indeed, only God can heal and reverse the catastrophe that has befallen societies that have embraced abortion and other assaults on life. He continues to call us to join in the fight through the intercession of Our Lady."
Under his custodianship to America, Father West traveled with the Black Madonna to three Canadian provinces and 46 states.
Thousands upon thousands venerated the Pilgrim Icon of Our Lady of Czestochowa in approximately 260 parishes, missions, shrines, cathedrals and basilicas; 15 Orthodox Churches, including Holy Trinity Orthodox Church in San Francisco; 12 convents; elder care facilities, schools, colleges and seminaries; and a prison.
At the ceremony, Father West transferred the custodianship of the pilgrim icon to Father James Heyd, liaison for pro-life ministries of the Archdiocese of Chicago. The global prayer campaign with the Black Madonna will continue in Mexico and Latin America after a short preparatory tour of Chicago.