---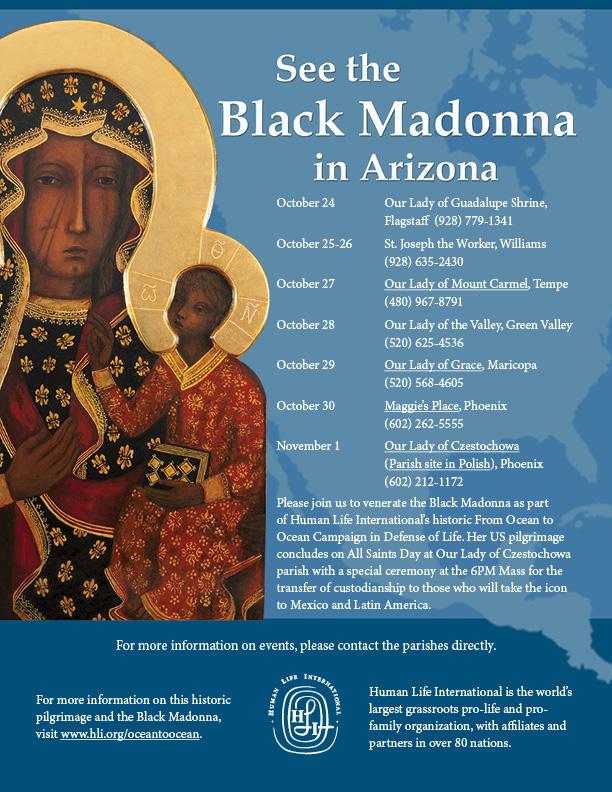 The worldwide pilgrimage of the traditional Christian icon of Our Lady of Czestochowa, also known as the Black Madonna, will soon depart the United States for Mexico and the rest of Latin America. The coordinating organization, Human Life International (HLI), announced the events in Phoenix, Arizona that will culminate in transfer of HLI's custodianship to Father James Heyd, a priest of the Archdiocese of Chicago and well known advocate for life and family.
The ceremony of transfer of custodianship will be held at Our Lady of Czestochowa parish in Phoenix, Arizona, on All Saints Day – Saturday, November 1, 2014. Father Peter West, HLI's vice president for missions and current custodian of the Pilgrim Icon of Czetochowa, will hand over custodianship of the treasured Christian icon to Father Heyd at a special outdoor Mass presided over by Father Jacek Buda, OP.
Hundreds of Catholic faithful are expected to attend the culminating ceremony of HLI's custodianship of From Ocean to Ocean Campaign in Defense of Life.
"Catholics and Orthodox Christians, particularly of Polish or other Eastern European descent, have long had a great devotion to the Black Madonna, and they know her history of awe-inspiring miracles. But I can say for sure that over the last 14 months, we have seen a great growth in many other Christian communities of devotion to the Mother of Jesus. We are honored to serve this great mission, and we will continue to pray for Father Heyd and future custodians around the world who join our historic campaign in defense of the unborn and most vulnerable of our brothers and sisters," said Father West. "We pray that the Black Madonna will bring many graces to the Dioceses of Phoenix and Tucson, and inspire an increased devotion and faith, including a faith that is active in the defense of all life."