TEPEYAC HILL, Mexico – An historic meeting of the Madonnas took place on the grounds of the Basilica of Our Lady of Guadalupe near Tepeyac Hill this week.
The traditional Christian icon of Our Lady of Czestochowa, on a worldwide pilgrimage in defense of life and family, visited the holiest of Catholic shrines in Mexico, where Monsignor Pedro Augustín Diaz graciously welcomed the Black Madonna to the Old Basilica of Our Lady of Guadalupe, also known as Templo Expiatorio a Cristo Rey (Antigua Basílica).
The icon's solemn arrival was sponsored by Derechos del Concebido, which drew many faithful, including pro-life leader Rosie Smith-Villegas from Voces por la Vida and 45 Polish pilgrims traveling from the Archdiocese of Chicago. Father Jim Heyd, custodian of the Pilgrim Icon of Our Lady of Czestochowa, along with Monsignor Pedro Diaz and several Polish priests, prayed the rosary and celebrated Mass for the intention of the defense of life, marriage, and family.
The historic meeting of the Madonnas is even more significant as this week is celebrated by those with a devotion to Our Lady of Guadalupe who appeared to Saint Juan Diego.  The image of Our Lady, which draws millions of pilgrims every year, especially during this week, miraculously appeared on the delicate garment of Juan Diego, and has survived almost five hundred years, to the amazement of scientists and the faithful alike. Catholics celebrate Our Lady of Guadalupe's feast day on December 12 to honor the Mother of the Americas, the Star of the New Evangelization, and the Patroness of the Unborn. Christians also honor Our Lady of Czestochowa as the Blessed Mother of God, whose icon – according to tradition – was painted by Saint Luke on the table used by the Holy Family.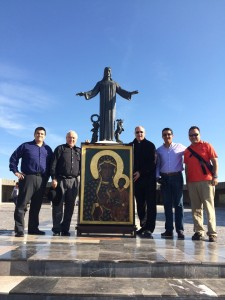 The pilgrim icon visited Santuario del Divino Misericordia, a symbol of religious freedom, on the O2O pilgrimage in Mexico recently.
Human Life International (HLI) recently transferred custodianship of the Black Madonna to Father James Heyd, a priest of the Archdiocese of Chicago and well known advocate for life and family. Father Heyd escorted the icon of Czestochowa to Mexico City and surrounding areas, where she will stay for up to a year before continuing south to the rest of Latin America.