On Sunday January 25, the church of St. John Paul II & St. Thomas More, the parish custody in Mexico City of our Lady of Czestochowa, was again, the scene of a mass in honor of Our Blessed Virgin Mary. The Mass was held at 17h00 with the participation of fervent worshipers who had come to venerate the Mother of God, despite the cold of the capital.
The church of St. Pope John Paul II and St Thomas More has become a kind of main headquarters of the Virgin Mary, from which She travels to various Mexican destinations.
There are not many Polish people in the metropolitan area of Mexico City. The diocese has only two priests of Polish origin: father Krzysztof Jan Meclik Czechowicz, who was born in Czestochowa and father Wiesław Marek Skowroński SVD from the town of Chełm near Lublin. Father Marek Skowronski, known to everyone with its name in Spanish: Fr. Marcos, was the celebrant of the Mass, thanks to an invitation of Fr. Luis A. Monroy, dean of the first Dean of the VI Vicariate.
Father Marcos has lived in Mexico 19 years. For a long time he lived in the state of Chiapas, state bordering Guatemala and with deep cultural richness, but also with a varied social contrast. Today he is a pastor of Sacred Heart Church de Copilco el Bajo, south of Mexico City. He had come to celebrate the Eucharist for the Poles and to pay tribute to the greatest of Poles, and first of all to honour the One to whom St John Paul II dedicated himself totally. Totus Tuus.
Representatives of the headquarters parish, as well as members of VidaFlorida Foundation, welcomed members of the Polish-Mexican community. The Consul of the Polish Embassy in Mexico attended the Mass and a Mexican-Polish couple led the singing.
Our Lady waited for all participants at the decorated and illuminated altar. At the beginning of the Mass, Fr. Marcos read in Polish the liturgy prepared for the "Pilgrimage From Ocean to Ocean", inviting the community to venerate the Black Madonna. Then, he invited José Luis García Chagoyán and Beatriz González, the Custodian Committee of the Pilgrimage in Mexico, to explain to the community the meaning and objectives of the pilgrimage.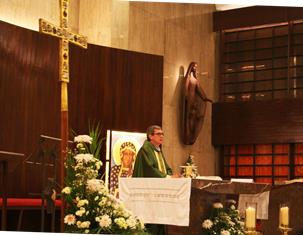 In his homily, Fr. Marcos explained the importance of the three images together: Our Lady of Czestochowa, St. John Paul II and St. Thomas More. He expressed the importance that each has for marriage and family life; how each of the two patron saints, in different periods of history, heroically defended the faith, marriage and family life.
The parish also has the image of Jesus of Divine Mercy from the apostolate headed by Susana Segura, who has been promoting in the community, the strengthening of understanding the Divine Mercy message implemented by St. John Paul II, who was added to the patronage of St. Thomas More parish. The image was given by an anonymous donor.