With great clamor and very excited, the parishioners received the Icon of Our Lady in the Parish of Christ the King and Immaculate Conception. The dean of the place, Fr. Victor Saragosin, accompanied Her every day.
She visited a number of communities such as Nanegalito, Dos Puentes, Tandayapa, Miraflores, San Sebastian, Santa Elena, Cartagena, Tulipe, Las Tolas, Gualea Cruz, San Jose de Porvenir, Manchuri, among others. In all these communities Virgin Mary was received with respect as the Mother of God deserves. The people there are very Marian.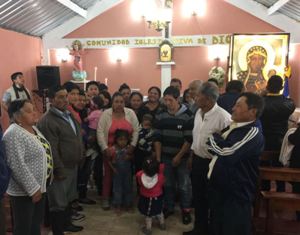 While awaiting the arrival of the Icon, the Holy Rosary was recited, then She entered the church decorated with a bow of white balloons and the Holy Mass was celebrated. Prayer cards were distributed with the image of the Icon and the prayer of St. John Paul II, which was recited at the end of all gatherings.
Many came close to the Icon to give Her a kiss, remembering the gesture that sometimes has been made by Pope Francis, they feel that if the Pastor does it, much more they who are so small can do it too.
As a special events, a community senior dance group of Tulipe and a youth dance group from the community of Armenia, presented a show in honor of the Mother of God.