In his parish the Queen of Heaven the town of Monterey, Father Leonel Caselles received the Icon of Our Lady of Czestochowa on October 1 to the 3rd.  She came accompanied by the Cross of Evangelization. This was a double surprise for the faithful.
In Ecuador the Cross of Evangelization began its pilgrimage on April 1 in the Amazon and will stay one year in the country. This Cross was given by Pope Francis in preparation for the V American Missionary Congress to be held in Santa Cruz in Bolivia.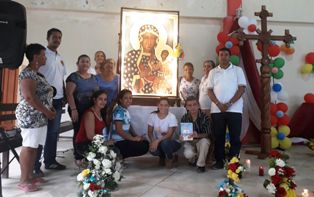 It is important that the Cross has begun the peregrination in the Amazon region because it carries the relics of Blessed Mercedes de Jesus Molina, the first missionary to reach these lands to serve the most needy.
On Sunday when She arrived, the community participated in the Way of the Cross where each parochial group was in charge of one station. The Icon and the Cross were participating in the procession. The Holy Eucharist was celebrated by Father Leon Juchniewicz at 7:00 PM, and afterwards a pleasant moment was shared together with dances, poems and songs to Virgin Mary.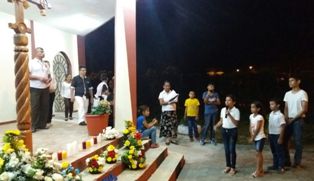 Both days Monday and Tuesday, the rosary was recited and then there was time for personal prayer in front of the Icon. "The whole visit was very emotional. We wanted to have Her longer, forever, but She had to go. All the parishioners were very happy in the presence of the Mother of God", said Father Leonel.