The Pilgrim Icon continues the journey through the Diocese of Santo Domingo.
Father Luis Enrique Larios received Our Lady in the parish of Santa Maria del Toachi, from October 3 to 6. As She arrived in the evening, the parishioners made an alley of honor with candles to the entrance of the church and after placing the Icon in a specially prepared place the holy rosary was recited.
Santa Maria del Toachi is a rural parish of Santo Domingo de los Tsachilas located an hour and a half from the capital of the province, has approximately 9,000 inhabitants.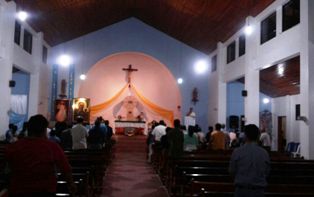 During the following days that the Icon was in the parish, at dawn the rosary was recited and after sunset the Holy Eucharist was celebrated. Some of the groups that helped during the visit were the Brothers of the Blessed Sacrament and the Dominican Sisters of the Rosary. These Sisters run a Private School call Holy Family, so they were bringing their students to contemplate the Icon and pray the rosary.
Father Luis Enrique knew the Icon of Our Lady of Czestochowa because, while still a deacon, he traveled with the San Juan Eudes Missionary Institute from Colombia to Rome to make the vows of fidelity in the Polish Chapel that is in the Basilica of San Pedro. For that reason, it was a great surprise for him to rediscover this image of Mary.