On November 9, 2017, in the framework of the jubilee celebration of the 130 years of uninterrupted evangelization in the Apostolic Vicariate of Puyo, the bishops of Ecuador with the new nuncio, Mons. Andres Carrascosa Coso, held the No. 143 Plenary Assembly of the Ecuadorian Episcopate.
This was a good opportunity for the Pilgrim Icon to visit her beloved sons, so Fr. Leon Juchniewicz, the Icon's custodian in the country, traveled from Santo Domingo to Puyo crossing the Andean Cordillera. The journey by car took approximately six hours. The Icon of Our Lady was in the Mama-Mobile, a pickup car adapted with a glass cabinin the back, in which She traveled during her stay in this diocese. In this way the Icon could be admired by the local people of the different towns of the Ecuadorian highlands on the way.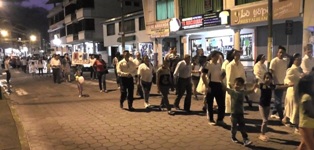 The Icon of Czestochowa visited the shepherds of the church at the end of the assembly, participating with the faithful in a Marian march for life and family procession. It began at 6:00 pm at the San Vicente Ferrer parish and ended at the Cathedral of the Virgin of the Rosary with the solemn Eucharist presided over by Bishop Eugenio Arellano, MCCJ, Apostolic Vicar of Esmeraldas and President of the Ecuadorian Episcopal Conference.
In the homily, Bishop Arellano spoke about the presence of the Virgin who travels the world in defense of life, and referred to Her as the Morenita Virgin, since he is the bishop of the morenitos, in reference to the Afro-Ecuadorian community that lives in the province of Esmeraldas. After the mass, prayer cards with Her image on the front  and the prayer of Saint John Paul II from the encyclical Evangelium Vitae was given to all the participants including all the bishops. The Icon remained throughout the night in the Cathedral and until well into the night many parishioners came to venerate Her.
On the next day She had to make the return journey. But as an anecdote, Fr. Leon said that when he went to remove the Icon of Our Lady, an indigenous older woman, dressed in her typical for the region clothing, advanced in her years, observed the Icon with much amazement, she lit a candle for the Icon and told  father: "Do not take it away, because I've never seen an icon like this. Do not take my mom". Fr. Leon allowed her to touch the image and pray a moment longer, but then She had to leave.