From August 2nd, the parish of Pilgrim Virgin of Puengasí "Virgen Peregrina de Puengasí" had the honor of hosting, and learning more about the image of Our Lady of Czestochowa.
It is a representation of the most respected virgin in Poland and Europe, known as Black Madonna with the Infant Jesus in her arms.
She is considered a symbol of motherly faith and love. The Christian tradition attributes the authorship of the original Icon to Saint Luke the Evangelist, who gives more details of the life of the Virgin Mary than the other Evangelists.
On this occasion Our Lady of Czestochowa, was in the parish of the Virgen Peregrina de Puengasí. The parish priest Juan Cruz Ustarroz says: "This visit is good for the community, it is important to know, visit and above all to share the faith day by day".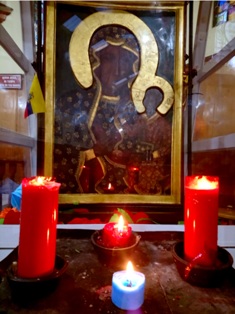 In order to integrate the community, a schedule of the visits was drafted and the responsibility was distributed to the ecclesiastical groups. Thus, on Friday, there was a wreath on behalf of the Juan XXIII group in honor of Our Lady and a solemn welcome of the Blessed Black Madonna.
It is necessary to emphasize that the Icon was exposed from 10h00 until 18h30. The visit of the Virgin Mary in Her icon in the Church concluded on Sunday August 5 with a procession and the Eucharist.