The Our Lady of Czestochowa visited the parish of "Cristo Salvador", located in front of the Chiriyacu Municipal Market, in the south of Quito. The visit took place from Monday the 13th to Wednesday the 15th of August.
In the Holy Eucharist, on Monday at noon, the parish priest Fr. Nestor Torres, organized a welcome celebration, the ecclesiastical groups and the community of parishioners attended. They responded with faith to the visit of Our Lady of Czestochowa.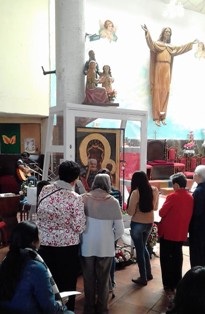 In his homily, Father Nestor pointed out the maternal love of the Virgin Mary and emphasized that "we must be a community that rejoices in love, but in the motherly love of a mother who teaches and accompanies us every day of our lives".
At the end of the Holy Eucharist, the blessing was performed by praying a Salve in honor of the Virgin of Czestochowa, and the parishioners said goodbye with happiness and devotion.