The students of Centro de Estudios Espiritu Santo, Male section, received with great devotion the Pilgrim Icon of Our Lady of Czestochowa on Tuesday, August 13. Some students were elected to attend the Holy Eucharist in Her honor, celebrated by Father Christian Morante, and 20 children gave red and white roses to the Mother of God.
After the mass, small groups of students went to visit Her and Miss Maggy Suraty led them in the prayer of the Holy Rosary making a brief introduction of the Icon. Miss Maggy belongs to the Parish of Our Lady of Czestochowa, so she knows very well the history of this Icon that was so relevant to Pope St. John Paul II. At the end of the afternoon the Icon was taken to the chapel.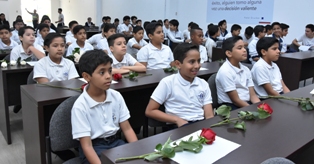 The next day on Wednesday, August 14, a Mass was celebrated in the schoolyard of the Female section, with all the students and invited parents. 20 girls offered red and white roses to the Black Madonna, as She is also known by this name. In the homily, Father Christian Morante stressed the coincidence between the Polish Icon and the celebration of the saint of the day, Saint Maximilian Maria Kolbe, a Polish priest who gave his life for a prisoner in the Auschwitz concentration camp.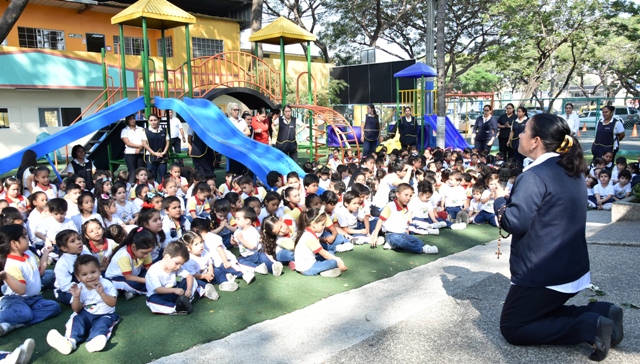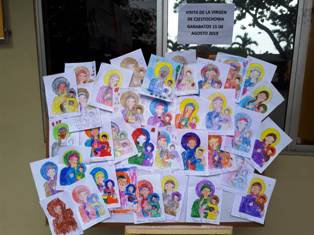 The small children were the last to say goodbye to the Pilgrim Virgin of Czestochowa on Thursday, August 15, the day we celebrated the Assumption of Mary. Marian songs were sung, a history of the Icon on leaflets were given out and roses also. Then, the kids painted beautiful images of the Virgin of Czestochowa, as a reminder of their time at the institution.