On Monday, August 26 we celebrated the Feast of Our Lady of Czestochowa, precisely with the Pilgrim Icon in the parish that bears Her name.
During the novena, the parish priest Fr. Jose Manuel Delgado, has the habit of visiting different sectors that belong to the parish and celebrating Mass there, so the Pilgrim Icon visited the sectors of: Acuarela del Rio, Brisas del Rio, Sauces 2, Sauces 3, Sauces 7, Sauces 9 and Garzota 2, encouraging parishioners with Her presence.
On the night of Monday 26, the church was partying. The Holy Rosary was recited at 6:30 p.m., followed by the Holy Eucharist preceded by Fr. Jose Manuel pastor of the parish and 8 guest priests, not counting  many altar boys who with great care and attention helped in the ceremony.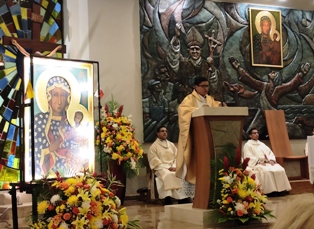 The altar was adorned with beautiful flowers and the church choir performed songs that were sung by those present.
Fr. Jose Manuel, in his homily, confessed that he was passionately in love with the Virgin Mary, as well as all the parishioners who filled the church. He thanked all who made it possible for the Pilgrim Icon to visit his parish and encouraged everyone always to keep in mind the holy name of Mary.
After the Eucharistic celebration, there was a concert of Marian music and fireworks that lit up the Guayaquil night in honor of Our Holy Mother.