The Pilgrim Icon of Czestochowa arrived on the last day of August at the St. Josemaria Escriva Rectoral Church, and stayed there until September 4.
Because it was Saturday, it was more than an evening mass - it was a Sunday liturgy Mass and two weddings were scheduled, so the church was adorned with beautiful white flowers.
Every Tuesday morning after Mass an important gathering of mothers there to intercede for their children. With prayers they ask for the protection of their children, in their studies, their friendships and their personal needs. It is a beautiful spiritual work that every mother should implement in her daily life, since a mother's prayer never remains without being heard by God the Father.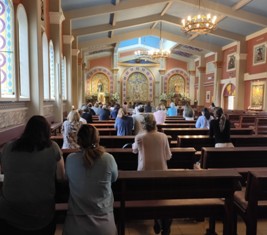 To this group of ladies, Maria Veronica Vernaza, coordinator of the Icon's pilgrimage in Guayaquil, give a small talk about the importance of the Black Madonna's visit. Many of them were surprised with the history of the Icon that is venerated in Poland, and then took the opportunity to get around the Icon and see more closely the iconography that represents the Mother of God.
With great sorrow, Fr. Carlos Ayala and some ladies who were there taking advantage of the last moments to be in the presence of the Icon, said goodbye to Our Lady on Wednesday afternoon. Distressed, but at the same time very happy to have been able to receive Mary in Her image of the Czestochowa Virgin.