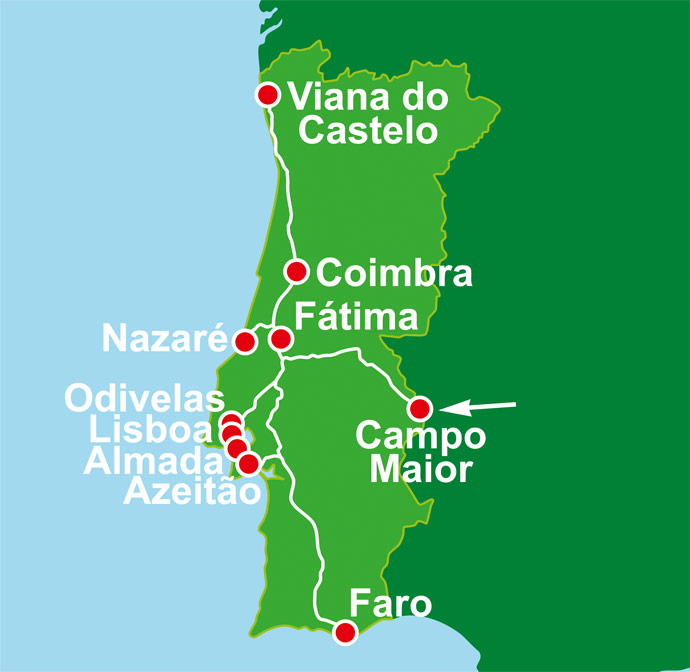 The "From Ocean to Ocean" peregrination program in Portugal from March 2, 2013 to July 23, 2013
March 2, 2013
Badajoz
– Reception of the Icon at the border between Spain and Portugal
Campo Maior
17:00 Arrival at the town and procession to the Parish Church
18:00 celebration
March 3, 2013
- Celebrations at the Parish Church of Campo Maior, diocese of Évora
Fátima
- Arrival of the icon in the byzantine Chapel of Domus Pacis, in Fátima, diocese of Leiria-Fátima
March 7, 2013
18:30 Rosary for LIFE in the Little Chapel of the Apparitions in Fatima
8-12 March
- Diocese Leiria-Fatima
13-17 March
- Diocese of Viana do Castelo
18-22 March
Odivelas
- Parish of Odivelas, Diocese of Lisbon
23-24 March
Almada
- Shrine of Christ the King
Azeitão
- Parish of Azeitão, Diocese of Setúbal
25-31 March
Faro - diocese of Algarve
1-5 April
Fatima
- Religious Congregations in Fatima and Byzantine Chapel.
April 6
- Meeting of the International Committee for the Icon Pilgrimage, in Fatima
18:00 – Parish the Little Shepherds,
April 7
(Divine Mercy Sunday)
10:00 – Celebration in the Byzantine Chapel (Hotel Domus Pacis).
14:00 - Rosary in the Little Chapel of the Apparitions, Shrine of Fatima
15:00 Holy Mass in the Basilica of the Most Holy Trinity, Shrine of Fatima
17:00 – Relocation of the Icon into the Chapel of Resurrection, Shrine of Fatima, for veneration.
13-14 April
Nazaré
– Pilgrimage of the Icon to the Shrine of Our Lady of Nazaré, in the Atlantic Ocean.
April 21
Cascais
10:00 Holly Liturgy - the orthodox Parish of S. John Chrysostom
April 23
Lisbon
- Romanian Orthodox Church
April 24
- pro-life association "Mãos Erguidas"
29 April - 5 May,
- Parish of S. Julião da Barra
July 23
Fatima
- Departure for Poland