The  Icon of Our Lady of Czestochowa arrived at Torreánaz School at about 10 p.m., and was greeted with a candle-lit procession formed by boarding pupils and the Community of the Hijas de Santa María del Corazón de Jesús (Daughters of Saint Mary of the Heart of Jesus). It was a joyous occasion. The Icon was escorted to the chapel, where members of the community took turns in an all-night vigil.
The following morning, Mass was celebrated at 8.15 a.m.
From 9.15 a.m. onwards, the day-pupils arrived and, throughout the morning and most of the afternoon, they came by year- or age-groups to pray and recite the Holy Rosary before Our Lady of Czestochowa. As there are 1,100 students of all ages at Torreánaz,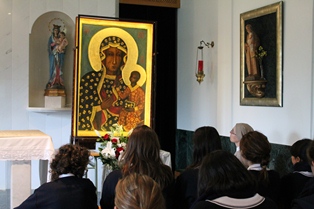 their Rosaries for Life were said incessantly all day before Our Lady's Icon, which caused a deep impression on all.
It had been raining hard all day, but when the "Life-Mobile" arrived to fetch the Icon, surprisingly the rain stopped long enough for the Icon to be loaded onto the "Life-Mobile". The farewell was memorable, with the Mother Superior thanking the organizers for this moving visit; all of the nuns, teachers and students accompanied the "Life-Mobile" to the gates waving white handkerchiefs as they do on their annual pilgrimage to Fatima. The Icon left Torreánaz at 6.30 p.m. As soon as the Icon left, it began to rain again.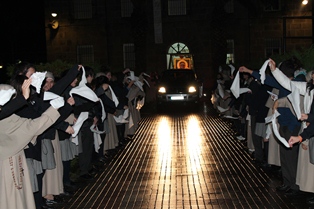 A message has been received by the Spanish "From Ocean to Ocean" Pilgrimage Organizers saying: "The fact is that those were very special days, in which we felt truly 'visited' by the Mother of God, moreover coinciding with Advent. The community of Sisters thank the Organizers for this present, for which we are indebted to you. Several days after this visit, the pupils and teachers still have the beautiful impression of feeling that the Blessed Virgin was looking at them. We pray hard to Mary asking for her intercession in favour of life".