On the morning of March the 25th, the polish priest Fr. Dariusz, together with some people from Faro, travelled to the Diocese of Setubal to carry the Icon of Our Lady of Czestochowa to Algarve. 
They arrived with the Icon at the Carmel monastery of Our Lady Queen of the World around 6pm welcomed by ringing bells. The Carmelite nuns enthusiastically welcomed our dear Heavenly Mother. During the celebration of Holy Mass at 9h30 pm there was a moment for spiritual adoption of unborn children. 
The pilgrimage program of Our Lady of Czestochowa in the Algarve also includes as high moments, the visit of Our Lady to the public hospital and the celebration with the Orthodox community, both on March 26.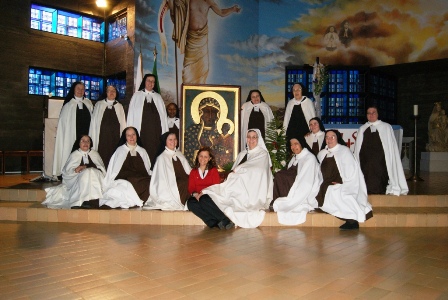 The Icon will stay in Faro until April 1, and will then come back to Fatima for the celebrations of April 7, at the Shrine of Fatima.