The icon of Our Lady of Czestochowa that arrived in Algarve on March 25th, travelled back to Fatima on April 1, after having visited the Discalced Carmelite Sisters in Patacão, the Hospital of Faro, the Carmel Church and the Refuge Aboim Ascensão, in Faro. Also very important was the visit of Our Lady to the Orthodox community in Faro. A great number of people participated in these celebrations.
The Polish priest, Father Dariusz Pestka, spiritual assistant of the Discalced Carmelites, who coordinated and accompanied the pilgrimage of the Icon throughout the Algarve, reported that "wherever the Icon went to, there was always a great devotion, including the tourists that came from all over the Algarve and who 'did not want the Icon to travel back'".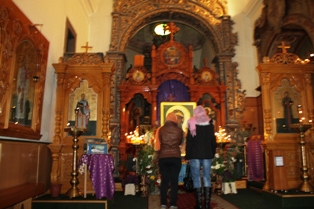 He underlined the celebration of the blessing of families, on March 27, and the Eucharist of the Polish community of the Algarve, both held at the Carmel of Our Lady Queen of the World. This Eucharist with the Polish community took place on Easter Sunday and also had the participation of the Ukrainian community as well as of several Portuguese people, members of the Orthodox and Catholic Church, that were "pretty much involved and felt very much the importance of this visit", said Fr. Dariusz Pestka.