Our return to Washington on July 19 brought many blessings to those engaged in pro-life work and for many was a chance to grow in their devotion to Our Lady. Upon our arrival at St. Brendan Church in Bothell, WA, we were elated to see Human Life International materials in the community room at a table staffed by the local pro-life group.
That evening, I preached at the Saturday vigil Mass about Our Lady of Czestochowa and her Ocean to Ocean Pilgrimage in Defense of Human Life. Parishioners embraced the Culture of Life message and venerated the Black Madonna after every weekend Mass. On Sunday afternoon, we joined the local pro-life community for a prayer vigil at a Planned Parenthood in nearby Everett, Washington.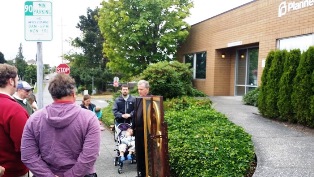 Known for its atheistic population, Mercer Island was our next stop the following morning with the pilgrim icon. The parish community at St. Monica Church, as witness to their strong faith,  erected a monument highlighting the Ten Commandments on church grounds. I celebrated Mass, gave a brief overview of the icon and our Lady's message on the sanctity of life, and provided ample time for veneration. We were delighted when parishioner Peter Anderson shared his passion for and his knowledge about Our Lady of Czestochowa.
On July 21, we brought the Black Madonna to SS. Peter and Paul Church in Tacoma. Welcoming us were the pastor Father Eugeniusz Bolda, S.Chr., Sister Veronica M. Ilnicka, M.Chr., and a crowd of supporters, who had decorated the Polish parish in a wonderful array of red and white streaming banners. We were pleasantly surprised to see Father Stanislaw Michalek, who had previously met the Black Madonna in June at Holy Cross Church when our pilgrimage traveled through Minneapolis. I concelebrated Mass that evening and preached about the pilgrim icon's historic Ocean to Ocean pilgrimage.  Parishioners had organized an all-night vigil, honoring the Black Madonna with devotional prayers and hymns.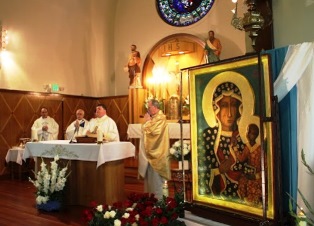 When I celebrated Mass the following morning, the church was surprisingly packed with parishioners from the vigil; many stayed to sing hymns as we processed to our car with the Black Madonna. It was a very humbling farewell as we headed to our next destination: Portland, Oregon.
Fr. Peter West with Chris Morales
Human Life International