Father Leon Juchniewicz, a Polish missionary who is working in Ecuador for 30 years is one of the people who made it possible for the pilgrimage of Czestochowa Virgin to Ecuador. Father Leon was ordained on June 11, 1983 and after three years of pastoral work and a year of preparation for the missionary work, he arrived in Santo Domingo de los Colorados, which at that time was the newly created Personal Prelature.
Before leaving for Ecuador, he received from the hands of St. Pope John Paul II, on June 14, 1987, the missionary cross, and although on arrival in Ecuador he did not understand Spanish very well, today he is one of the most beloved priests in the community.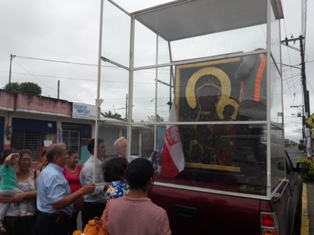 "In those days there was no internet, so I have learned about Ecuador from an outdated encyclopedia that I had on hand, and the truth is, it did not say much", he recalls. But that missionary spirit of selfless dedication and knowing that self-giving is the most important thing has made his work fruitful for the most needy in Santo Domingo.
The Icon visited the parish where he serves as pastor, the Church of the Assumption, and also as a director of St. Maximilian Kolbe Educational Center. In the Church, the Icon was present from May 5 to May 8. The community gathered together with the Mother of God to pray the rosary and celebrate the Holy Eucharist, especially on Sunday, when there are more masses for parishioners. The people who came to see the Icon were amazed by Her beauty and at the same time asked for the intercession of the Blessed Mother.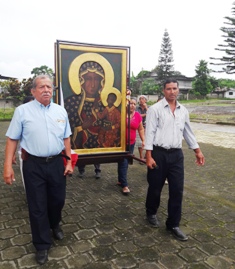 She arrived at the St. Maximilian Kolbe on May 8 and stayed until the following day. The institution fulfills the educational needs of children from the age of three as a kindergarten and a school up to the tenth grade. The celebration of Mother's Day was held in advance so that all the mothers could share it with the Blessed Mother in Her Icon. The choir of the school glittered with songs appropriate to the occasion and Fr. Leon blessed the mothers who were there. Roses and the prayer cards with the Virgin of Czestochowa Icon image were distributed, on the back was the prayer of St. John Paul II from his encyclical Evangelium Vitae.