From May 27 to May 30 the icon of Our Lady of Czestochowa visited the Parish of Our Lady of Carmen and the city of Puerto Quito. This city is in the Pichincha province, but belongs to the northwest part of the Diocese of Santo Domingo.
The Virgin arrived at the parish center from Andoas the St. Vincent Ferrer Parish, visiting on the way the Santa Marianita community within the jurisdiction of Puerto Quito. The Icon was moving in a van that has a glass housing for all to see. Our Lady was welcomed by many people who were waiting for her, ready to begin the prayer of the Holy Rosary,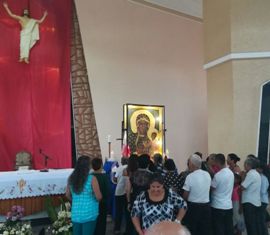 the litanies and then the Holy Mass at 7:30 p.m. On consecutive days the image visited different communities and chapels of the Parish.
On Saturday She returned to the parish center where in the afternoon She visited catechetical groups, both for the children in preparation for the sacrament of First Communion and the young people who are preparing for the Sacrament of Confirmation. Before the evening Holy Mass, the Holy Rosary and litanies were recited.
On Sunday, the Icon reached the Community of Missionary Sisters of the Holy Spirit. They are in an enclosure called Buenos Aires that is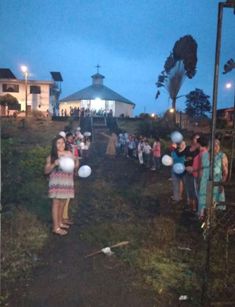 very far from the parish center. Here also the Holy Rosary was prayed with the litanies and the Holy Mass was celebrated.
Defense of the human life was the main topic of all the homilies.