The Lord of Good Hope parish, located in the Villaflora sector south of the city of Quito, had the honor of receiving Our Lady the Virgin of Czestochowa. From August 15, the religious icon was located at the foot of the high altar.
The community received Her at 6:00 pm and immediately the Pilgrim Virgin was greeted with the recitation of the Holy Rosary; an event in which children, young people and adults participated, all parishioners highlighted each mystery by thanking the Pilgrim Virgin for Her visit.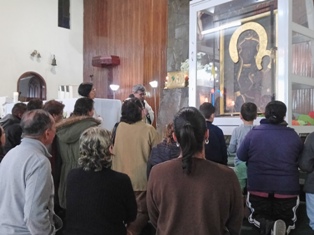 After concluding the Holy Rosary, the Eucharist was celebrated, the parish priest, Fr. Vicente Aguilar, congratulated the parishioners for the welcome to the Virgin of Czestochowa, and in his homily he commented: "We feel the love of our mother, and the commitment of the congregation. Long live the Virgin Mary and long live the Virgin of Czestochowa!"