In the parish of Santa Ana, located to the south west of the city of Quito, the Holy Eucharist was celebrated and later an agape with the parishioners who attended the welcoming of Our Lady the Virgin of Czestochowa.
The celebration was preceded by the parish priest Fr. Jose Alfonso Carvajal, who invited the community to welcome the Pilgrim Icon with open arms. In his homily he commented: "It is a wonderful opportunity for the unity of the parish to fall into the arms of a Pilgrim Mother, a Mother Mary who helps us to extend our faith, because Mary is faith, hope and charity."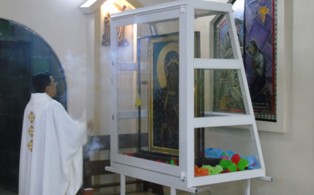 In the final blessing  father prayed together with the parishioners a Hail - farewell, a prayer in honor of the pilgrimage that the Virgin performs in Ecuador.
After the celebration, the parishioners of Santa Ana met to share a mid-afternoon snack and say goodbye with joy and enthusiasm to Our Lady the Virgin of Czestochowa.