On Sunday, September 29, Fr. Leon Juchniewicz, a Polish missionary and custodian of the Icon in Ecuador, traveled to bring the Icon of Our Lady of Czestochowa to the San Jacinto Parish, in the Manabi province, to a town called Cascol which is an hour and a half drive from Guayaquil.
There, She was received by fr. Janusz Wielgos, a Polish missionary like Fr. Leon, before the noon Mass of twelve o'clock. Both concelebrated the Holy Mass. Before the Eucharist, Father Leon explained the unprecedented pilgrimage, where the image of the Mother of God travels through different countries with a pro-life and pro-family message. At the end of the celebration prayer cards were distributed with the image of the Virgin of Czestochowa on one side, and on the other the prayer of St. John Paul II from the Evangelium Vitæ Encyclical, and all recited it together.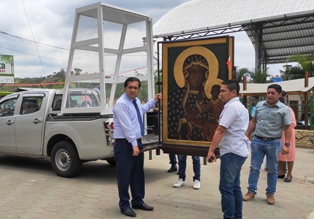 Fr. Leon also recalled the words of his compatriot, Cardinal August Hlond, who said: "When victory comes, it will come from the Immaculate." Cardinal Hlond was an Archbishop of Poznan and Gniezno in 1926 and Primate of Poland. He was the only member of the College of Cardinals who was arrested and taken into custody by the Gestapo during World War II, and during the last years of his life was a critic of the communist regime. His cause for canonization began in 1992 and he was granted the title of Servant of God. On May 19, 2018, he was named Venerable after Pope Francis confirmed his heroic virtues.
Father Juanito, as he is known in the area, is initially from the Diocese of Czestochowa, so he knows this image of Our Lady very well. His arrival in Ecuador occurred in 2002, after preparing at the Missionary Training Center in the Polish capital, Warsaw. At first he had been proposed to go to Bolivia, but his superiors changed their minds and sent him to Ecuador along with 3 other missionaries, "the priests should never say ´no´, the priest must always say ´yes´ as Mary", he commented.
On Sunday afternoon the Way of the Cross took place through the streets of Cascol, to remember the Passion of Our Lord, and on Monday afternoon, Father Janusz took the Icon to the Virgin of Mercy Parish, in the town of Pedro Pablo Gomez, where he is also a pastor.