On Wednesday, September 4, the Pilgrim Icon arrived at the Mary Mother of the Church Parish.
On Thursday night, after Mass, the Pilgrimage coordinator in Guayaquil made an explanatory talk about the importance of the Icon and the reason for its arrival in the country, inviting those present to ask Our Mother for the women who are thinking of abortion,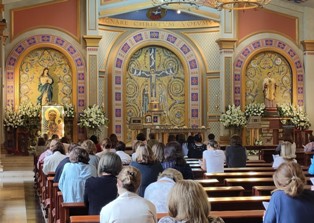 The Pilgrim Icon of Czestochowa arrived on the last day of August at the St. Josemaria Escriva Rectoral Church, and stayed there until September 4.
Because it was Saturday, it was more than an evening mass - it was a Sunday liturgy Mass and two weddings were scheduled, so the church was adorned with beautiful white flowers.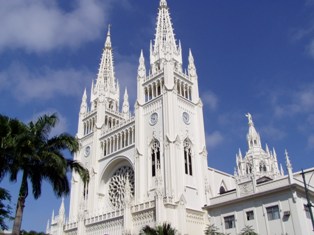 The Metropolitan Cathedral of Guayaquil, officially called St. Peter's Cathedral, received the Pilgrim Icon of Our Lady of Czestochowa August 27 until 31.
The Cathedral is located in the heart of the city, in front of the Seminary Park and was originally built of wood around 1547; it was rebuilt in reinforced cement in the twentieth century, in neo-Gothic style.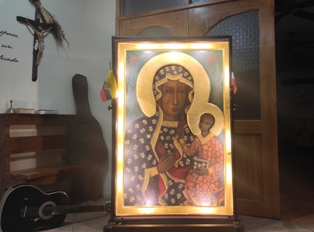 The Pilgrim Icon of Czestochowa spent 24 hours with the Servants of the Home of Mother. Sister Paqui with a group of sisters and missionaries had attended the celebration mass on Monday 26 in Our Lady of Czestochowa parish, and she had asked in pray to have the Icon at their home just one day.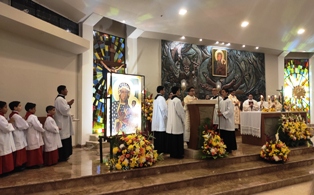 On Monday, August 26 we celebrated the Feast of Our Lady of Czestochowa, precisely with the Pilgrim Icon in the parish that bears Her name.